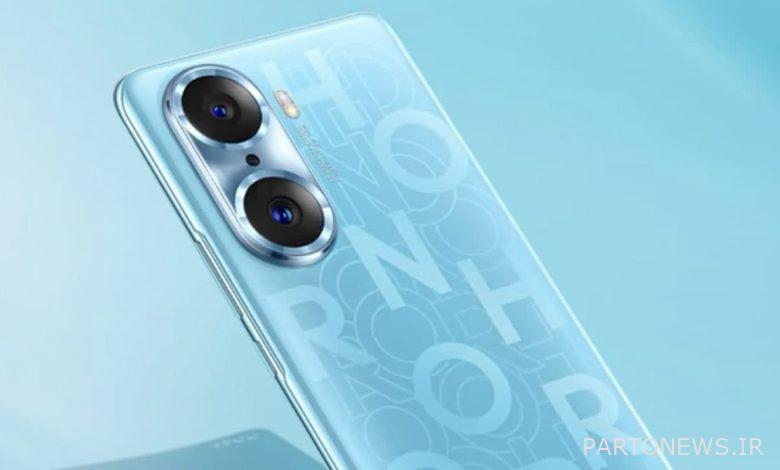 Honor unveiled a few months before the Honor 60 series phones in two models, normal and Pro. Now, three months later, a new version of the Honor 60 Pro called "Honor Code" (Honor Code) introduced which has not changed in terms of hardware but to Back panel Electrochromic glass is equipped and Notifications Shows in a creative way.
new version انر 60 پرو It can be distinguished from other phones on the market with its unique design. The back of the phone has an electrochromic glass on which the capital letters of the name Honor (H, O, N, O, R) are written. These letters glow harmoniously when you receive a call, alert, reminder, or notification. It explains that the back panel of the device offers a "millisecond response rate" and users can customize the brightness and speed to their liking from the device settings.
However, Honor is not the first company to use electrochromic glass in its handsets. OnePlus And ویوو In the past, concept phones with changeable color back panel and electrochromic glass were also on display.
The UnCode version comes in an option with 12GB of RAM and 256GB of internal storage and is priced $ 633 Is. The pre-sale of the device has already started in China and it is not clear when it will enter the global market.
Specifications of Honor 60 Pro
In terms of hardware, the Honor 60 Pro features a 6.78-inch OLED display with full HD resolution and a 120Hz refresh rate. This phone to the processor Snapdragon 778G Plus Qualcomm is equipped with 12 GB of RAM and 256 GB of internal memory.
In the camera section, there is a triple module on the back panel 108 megapixel main sensor, The ultra-wide sensor becomes 50 megapixels and the depth detection sensor becomes 2 megapixels. At the top of the device screen is a 50-megapixel selfie camera.
Other notable features of the device include a 4800 mAh battery with support 66 watt fast charge Cited.