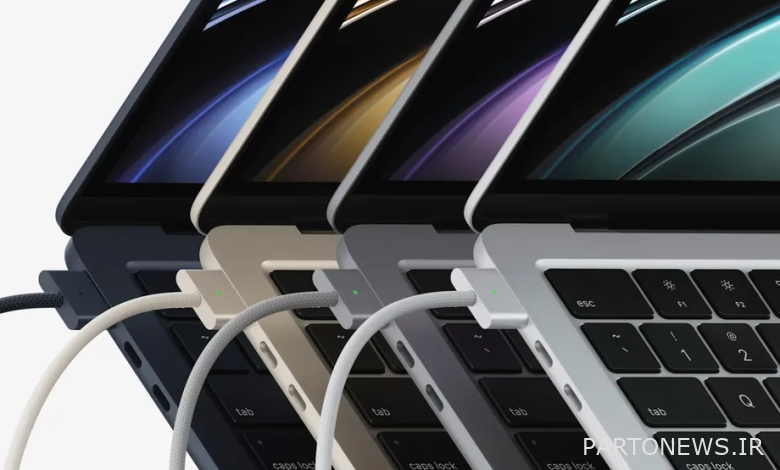 Quotes from the website TheVerge Since the introduction of the MacBook Air and the 13-inch MacBook Pro with Apple's M1 chip technology in 2020, Mac laptops have undergone minor changes. But today, following Apple's recent unveiling at WWDC 2022, we have a redesigned MacBook Air and a 13-inch MacBook Pro with its own specs, both in July (early summer) with the M2 chip. They will be. In the following, we will examine the changes made in these new MacBooks compared to our previous generation.
MacBook Air with a new design but MacBook Pro without any special changes
Highlights of the new MacBook Air 2022 with a 13.6-inch display include a larger notch, as well as some upgrades to enhance performance, such as MagSafe charging and the new 1080p webcam, which brings a fresh design. Meanwhile, the 13-inch MacBook Pro is basically the same as the 2020 model, complete with a touch bar, but the point is, there's a new Apple M2 processor in both. Therefore, they can no longer be compared to MacBooks released last year with M1 Pro and M1 Max processors and a large number of ports.
First of all, the MacBook Air is quite different from its predecessor thanks to its thinner, non-wedge-shaped appearance and a variety of color options. The laptop will be available in silver, gray, starlight and midnight dark blue, and will initially be available with an eight-core M2 processor with eight GPUs, 256GB of storage and 8GB of RAM. Also on it a new 1080p webcam – Finally, Apple dropped the 720p – Placed with smaller margins. However, its screen size has been increased to 13.6 inches with a higher resolution of 1664 x 2560. The base Air model is more expensive than the 2020 version (which was around $ 999) and will start at $ 1,199 when it launches in July.
More limited changes on the 13-inch MacBook Pro
In the case of the 13-inch MacBook Pro, updates have been made to the device, but despite some hardware options that look old, the laptop still looks old. The M2 chip also has the same eight-core M2 processor with 10 GPUs that can be configured with the new MacBook Air, but with features very similar to the MacBook Pro 2020, for example a fan to use Longer under heavier loads. But Apple has kept many other specs of its 2020 model on the laptop – the same screen and chassis, the same dual-port options, MagSafe, and a touch bar. Overall, this MacBook Pro seems like a weird choice with an old-fashioned design and input method that has been phased out, starting at $ 1,299 at launch.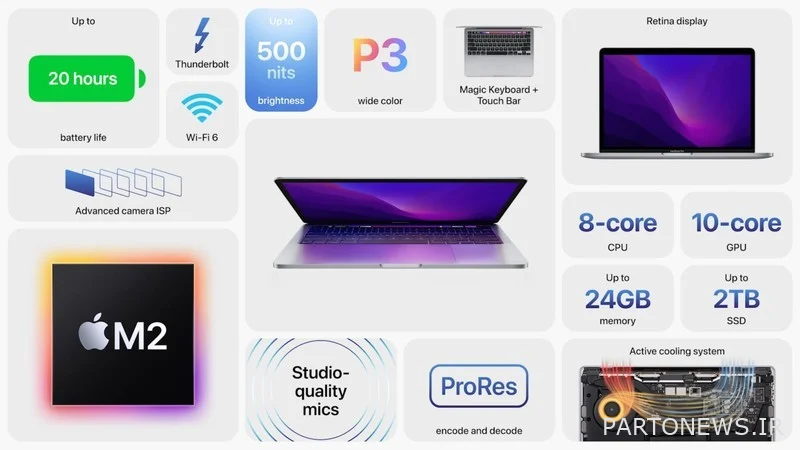 Finally, it seems that the MacBook Air 2022, with its good performance improvements, could be a viable alternative to its predecessor. Of course, one of the differences between the 14-inch and 16-inch MacBook Pros and the new generation is that the new MacBook Air and 13-inch Pro do not have an SD card slot. But this issue has made the design of these laptops slimmer and more attractive. But for the 13-inch MacBook Pro, things may be a little different.
It will take a few more weeks for the new generation M2 chip to show its performance, and whether we will see a tangible change in them, to determine the true capabilities and compare the output power of the two with the 2020 models.
Other WWDC 2022 events:
Score: 5.0 Out of 5 (1 vote)
wait a little…