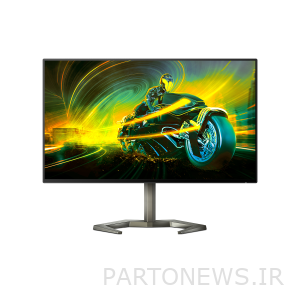 Study time:
2
Minutes
Philips unveiled the latest Momentum gaming monitors yesterday. These products are marketed in the size of 27 inches and their main difference is related to the resolution and update rate. Also, all introduced models support AMD Freesync Premium Pro technology. Stay tuned to Lyon Tak.
The Momentum 27M1F5500P and 27M1F5800 gaming monitors are two new Philips products that come with a 27-inch nano IPS panel. According to the available information, these two monitors support 4K / 144Hz and 2K / 240Hz resolution and refresh rates, respectively.
Meet the new series of Philips gaming monitors
The manufacturer said in a press release that the Momentum 5000 series gaming monitors include two new 27-inch products, including the 27M1F5500P and 27M1F5800, which are all designed to meet the needs of professional gamers. According to Phillips, the Momentum series is full of advanced features that will ultimately provide a complete and flawless experience for gamers.
Key features of these two monitors include the following:
27-inch IPS nano panels with support for 1.07 billion colors
Support for DisplayHDR 600 certification and AMD FreeSync Premium Pro technology
Supports 4K and 2K resolution and 144 and 240 Hz update rate
HDMI 2.1 port for 27M1F5800 monitor
Thanks to the IPS nano panel, we now see rich and clear images with a wide viewing angle. Also, the Ultra Wide-Color technology in these two products makes it possible to provide bright images with vivid colors. In addition, Philips' exclusive SmartContrast feature simultaneously analyzes content and automatically adjusts colors and backlight intensity depending on different situations to ensure gamers enjoy the best possible visual experience.
Price and time of supply
One of the major advantages of these two monitors is their support for AMD FreeSync Premium technology, fast refresh rates of 144 and 240 Hz, and a response time of 1 millisecond, which results in smooth, clear images without rupture with minimal input latency. Other features of these two products include low blue light filter, easy access to OSD settings and high quality stereo speakers.
Finally, the 27M1F5500P and 27M1F5800 monitors will be available starting this month for 30 530 and 30 630, respectively.