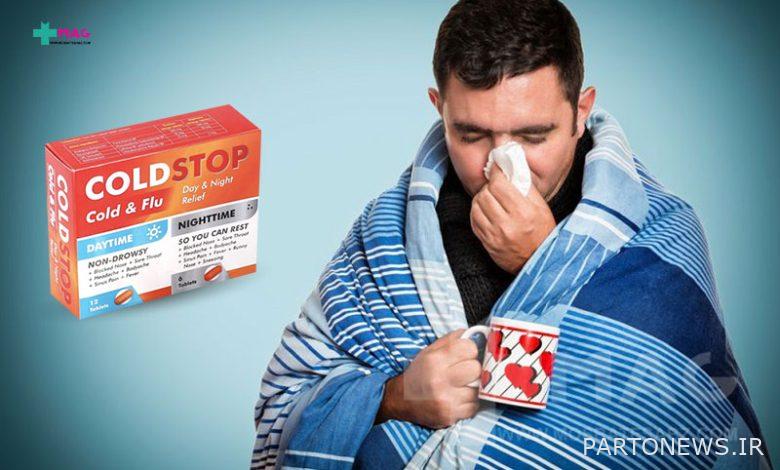 Today, there is hardly anyone who has not heard the name of Cold Stop tablets. This pill is effective for relieving cold and flu symptoms and improves fever, pain and nasal congestion. To get to know more about this pill, stay with us in this article from the online positive green pharmacy magazine.
What are the ingredients of Cold Stop tablets?
The following ingredients are used in this pill:
| Acetaminophen | 500 mg |
| --- | --- |
| Pseudoephedrine | 30 mg |
| Diphenhydramine | 25 mg |
Coldstop is usually prepared in the form of tablets and is therefore used for adults.
What is cold stop pill for?
Cold Stop tablets have analgesic effects because acetaminophen is used in it. The use of this drug has the following advantages:
Reduce fever
Improve pain and bruises in the body
anti runny nose
anti allergy
Therefore, the effects of cold, flu and corona can be easily relieved by using this medicine. In many cases, the public calls Coldstop a cold pill.
How many hours should Cold Stop tablets be taken?
How to take Coldstop is as follows:
| | |
| --- | --- |
| Children 6 to 12 years old | Half a tablet every 4 to 6 hours |
| Adults and children over 12 years old | One whole tablet every 4 to 6 hours |
important points: 1– This medicine is not suitable for children under 6 years old. 2– Children 6 to 12 years old should not use more than 2 whole tablets in 24 hours. 3- Adults and children over 12 years old should not take more than 6 tablets in 24 hours.
What are the side effects of Coldstop?
By taking this pill, you may experience the following side effects:
A little dizzy and sleepy
Allergic reactions
Blood disorders
dry mouth
Jaundice
Be careful that every medicine may have side effects along with its benefits. Therefore, if the doctor has prescribed Coldstop for you, be sure to use it. If Coldstop causes digestive irritation in you, use it with food and a glass of water.
Serious warnings about coldstop
Do not use this medicine if you are allergic to acetaminophen, pseudoephedrine and diphenhydramine.
During pregnancy and breastfeeding, this pill should be taken with the doctor's opinion.
Children and the elderly are allowed to use this medicine after consulting a doctor.
If you are taking drugs such as anticholinergics, blood pressure lowering drugs, antidepressants, drugs that weaken or stimulate the central nervous system, inform your doctor.
In cases where a person has alcohol or drug addiction or is facing diseases such as cardiovascular diseases, diabetes, gastritis, stomach ulcers, thyroid disorders, enlarged prostate and blood pressure, he should consult a doctor before taking Cold Stop.
If you are going to have surgery, stop taking Cold Stop tablets 5 days before the surgery.
Avoid drinking alcohol with this medicine because you may have severe liver toxicity.
After taking Cold Stop, avoid driving and working with dangerous tools because this medicine causes confusion and drowsiness.
Use of Cold Stop during pregnancy and breastfeeding
Both during pregnancy and breastfeeding, this drug should be used under the supervision of a doctor. High doses of Coldstop as well as long-term use of this drug during pregnancy can be dangerous. Due to the presence of antihistamines in this medicine, Cold Stop tablets can cause restlessness in infants. Also, the sympathetic mimicking amines in this drug can be dangerous for the baby. So, never take this medicine without consulting your doctor during breastfeeding.
Cold Stop drug interactions
Before starting to take Cold Stop tablets, you should inform your doctor about any type of medicine, supplement or even herbal medicine that you are taking so that he can carry out the necessary investigations in terms of drug interactions. Coldstop may interact with the following medications:
Medicines containing acetaminophen and diphenhydramine
Sedatives and sleeping pills
Anticonvulsant drugs
Antidepressants and anxiety medications
Warfarin and anticoagulants
Drugs that weaken or stimulate the central nervous system
Antihistamines
Antihypertensive drugs
Muscle relaxants
Be careful that there may be other drugs in the above list that are not mentioned here.
Storage conditions of Coldstop tablets
Store the medicine at a temperature below 30 degrees Celsius and away from moisture and light.
Keep the medicine out of the reach of children.
Be sure to pay attention to the date of manufacture and expiration of the drug.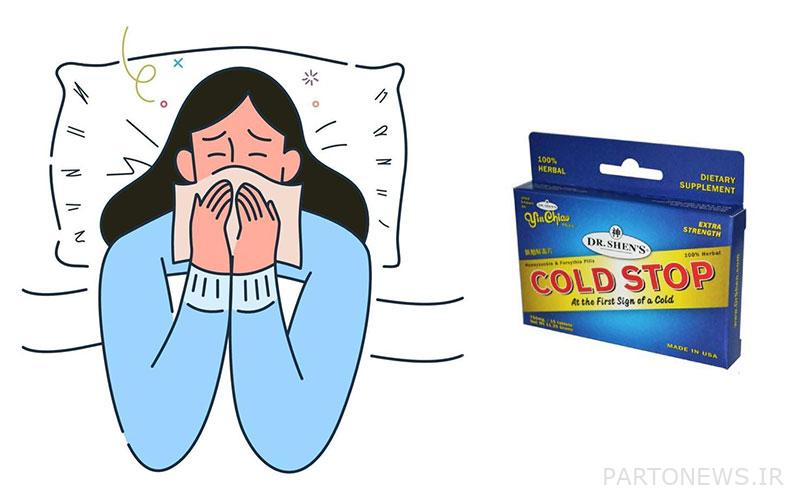 Cold stop pills for corona
In many cases, Covid-19 has symptoms similar to a cold. That is, it is associated with sneezing, coughing, fever and body aches. To relieve these symptoms in corona disease, you can use Cold Stop with the doctor's opinion. But it is certain that the use of this drug is not considered a definitive treatment for Corona. If you have suspected symptoms of corona, be sure to see a doctor.
Is cold stop the same as cold dox?
Coldstop and Coldox tablets have similar functions and both are used to treat colds and flu. The difference between these two drugs can be in the amount of compounds used in them. Also, sometimes they use another substance instead of one substance in the combination of these two drugs. But in the end, Coldax and Coldstop have the same function. Acetaminophen, phenylephrine and antihistamines are usually used in Koldox tablets.
The price of each sheet of cold stop tablets
The price of drugs in the market is changing day by day. One of the most famous Coldstop brands is related to Razak brand. Currently, that is, in January 1401, when this article is being written, you can get 10 sheets of this pill at a price of about 10,000 Tomans from pharmacies. This price is approximate. For more information, you can call the phone number 021 72254 (Dr. Haq Nejad Pharmacy) or visit in person. Of course, it is better to use Cold Stop medicine with a doctor's prescription.
Cold stop and blood pressure
If you have high blood pressure, don't start taking cold stop pills arbitrarily. Due to the composition Pseudoephedrine In this medicine, blood pressure may increase and cause problems for you. Therefore, if you have high blood pressure, consult your doctor about using Coldstop.
final word
Cold Stop pill is a drug that many people know as cold pill. You can use this medicine to relieve cold symptoms such as fever, body aches and runny nose. If you have a specific disease or are taking a specific medication, be sure to consult your doctor before taking Coldstop and avoid self-administration of this medication. Children under 6 years old are not allowed to use this medicine. Also, pregnant and lactating women should be careful while using this medicine and consult a doctor.