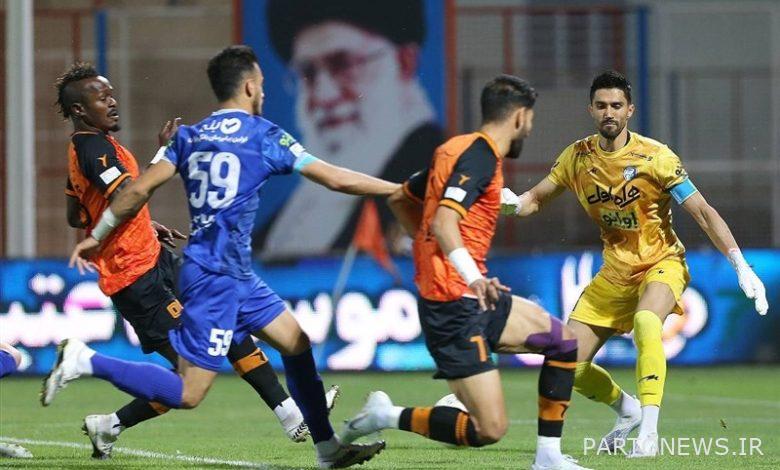 According to Tasnim news agency, the football teams of Rafsanjan and Esteghlal competed against each other within the framework of the 22nd week of the Premier Football League at the Martyrs of Copper Stadium from 20:00 today (Tuesday), the first half of which ended in a goalless draw.
Combination Copper: Fayez Al-Rasheedi, Aqeel Kaabi, Majid Aliari, Mehrdad Rezaei, Meysam Teymouri, Shahin Tavakoli, Hassan Jafari, Farshad Mohammadi Mehr, Seyed Mehdi Hosseini, Mohsen Azarbad and Godwin Mansha.
Combination Esteghlal: Seyed Hossein Hosseini, Aref Gholami, Rafael Silva, Abolfazl Jalali, Saleh Hardani, Jafar Salmani, Zubair Nikonfs, Mehdi Mahdipour, Amir Hossein Hosseinzadeh, Kevin Yamga and Arman Ramezani.
Referee: احمد محمدی
3 minutes: Defender Meysam Teymouri – Copper midfielder hit his head on a post from a corner in the Esteghlal penalty area without being disturbed, which he carelessly kicked out.
4 minutes: Amir Hossein Hosseinzadeh's long-range shot hit the vertical post of the copper gate.
5 minutes: A ground pass to Esteghlal's penalty area could have easily entered Esteghlal's goal, but Hosseini carelessly hit the copper player.
15 minutes: Rafael Silva's header went wide of the post from a corner.
35 minutes: Hosseini doubled Hassan Jafari's pass and Majid Aliari's shot in the Esteghlal penalty area.
38 minutes: Abolfazl Jalali's mistake in the defensive line caused the ball to reach Aliari and this player became one-on-one with Hosseini, but again Esteghlal goalkeeper prevented his team from opening the gate.
38 minutes: Then, this time, it was the wrong turn of the copper defenders to get the ball to Hosseinzadeh, and this player hit the goal after passing through the copper goalkeeper, which went to August.
40 minutes: Arman Ramezani's shot went out of the copper gate.