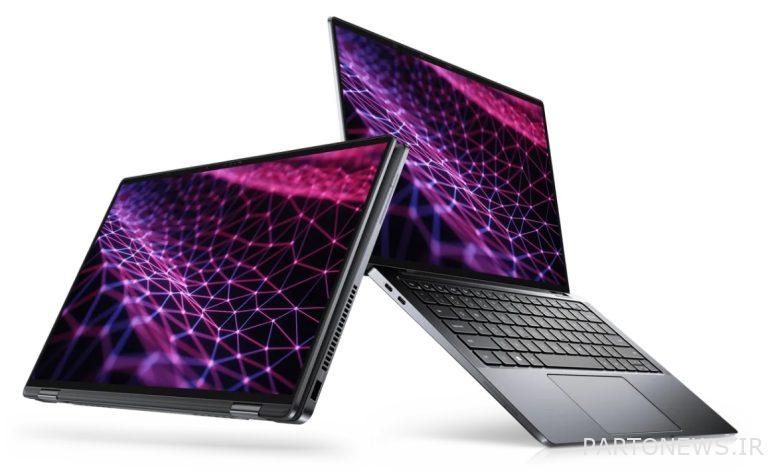 Dell today unveiled the new mobile workstation laptops and a new product from the Latitude series of laptops, and among the features of these products, we can mention the new touchpad. The Dell family of Latitude laptops is a business-friendly product, and the new version of the device is designed to focus on the needs of business customers.
The new Latitude 9330 laptop with a 13-inch display is one of the slimmest devices in the series. This laptop, which can be turned into a tablet at the same time, has a collaboration touchpad that gives users fast and key features such as turning on and off the microphone and video during online meetings.
Dell Latitude laptop and Precision workstation come with 12th generation Intel CPUs
When the online call and zoom call are completed, these features will be disabled and the touchpad will return to normal trackpad and mouse pointer. Other features of this laptop include FHD front camera with separate RGB and infrared sensors as well as nerve noise elimination. The Latitude 9330 also comes in a variety of configurations with Intel 12th generation processors, and connectivity includes support for 4G LTE, 5G, and Intel Wi-Fi 6E.
The laptop also uses Dell Optimizer, which uses artificial intelligence to enhance app performance, settings and battery life. The Latitude 9330 laptop will be launched in the global market in June 2022 and its price will be revealed close to the release date.
Dell, meanwhile, has unveiled Precision 7000 mobile workstation products designed for heavy-duty applications such as virtual and augmented reality, artificial intelligence, and content creation and editing software. Both the new Precision 7670 and 7770 laptops use the most powerful 12th generation Intel Core i9 CPUs, and both use the Nvidia RTX A5500 with 16GB of GPU in terms of graphics processor.
These products have the ability to support a maximum of 128 GB of DDR5 RAM. The Precision 7670 comes with a slim platform and Performance chassis, the choice of graphics card in these two chassis varies. The 7670 and 7770 laptops will come in 16 and 17-inch form factor, respectively.
These products will be available in the second quarter of this year. Dell today unveiled a device lifecycle management service called Lifecycle Hub. This service includes capabilities for supply chain management, deployment, repair and management of the company's IT resources. Dell customers can also use this service to replace previously defective devices or accessories within 48 hours.
Score: 5.0 Out of 5 (1 vote)
wait a little…