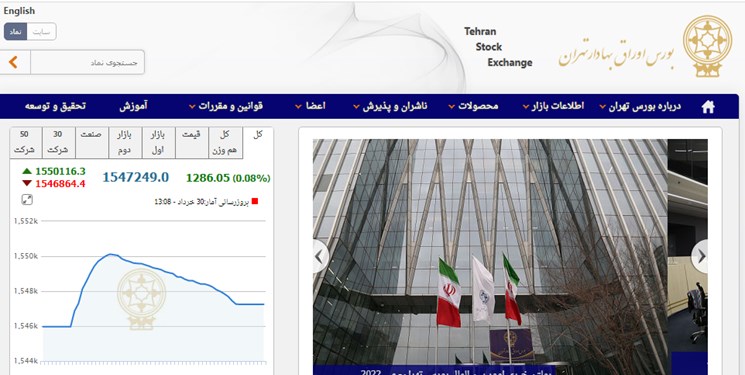 According to the economic correspondent of Fars News Agency, Tehran Stock Exchange Today, in an oscillating trend, it was accompanied by an increase of 1286 units. Also, the total index with the homogeneous criterion increased by 1223 units and reached 426 thousand and 584 units.
The total stock index increased by 1286 units to 1,547,248 units.
The market value reached more than 6 million and 130 thousand billion tomans. Today, traders traded more than 5.8 billion shares of pre-emptive rights and securities in the form of 418,000 transactions worth 3,799 billion tomans.
Today, all stock market indices went green, In the speciesکل Where the total index and the price index increased by 0.8% by weight-'s value criterion, these two indices increased by 0.29% by weighted criterion.
The free float index rose 0.12 percent, the primary stock market index rose 0.3 percent and the secondary stock market index rose 0.15 percent.
Today, the shipping symbols of the Islamic Republic, Iran, Khodro, Saipa, Mobin Energy had the most increasing effect on the Tehran Stock Exchange, and in contrast, the petrochemical symbols of Pardis, Melimas and Telecommunications of Iran had the most decreasing effect on the stock index.
At OTC Today, the total index of Iran increased by 27 units and reached 20,986 units. First and second market value OTC Iran more From one million and 167 thousand billion tomans.
Base market value OTC Became 356 thousand billion tomans. Today, traders traded more than 4.7 billion shares and securities in the form of 266,000 items worth 127,000 billion tomans.
Of course, it should be noted that on Mondays in the banking network in the form of open market operations, central bank debt securities are traded between banks, and today more than 1.3 billion debt securities worth 125 thousand billion tomans were traded between the banking network and figures It in OTC It is inserted, otherwise in itself OTC Stock transactions of more than 3 billion shares and securities worth 1,629 billion tomans were traded.
Today the symbols of Aria ساسولDamavand Electricity, Saba Tamin and Bank D more increase in the index OTC And had symbols گهرزمین ،Petrochemical Zagros and Cultural Heritage Holding have the most decreasing effect on the index OTC Have.
end of Message / T 981
Suggest this for the front page