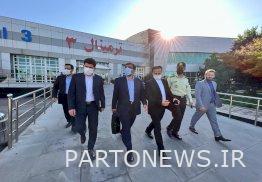 According to Aria Heritage, citing the public relations of the General Directorate of Cultural Heritage, Tourism and Handicrafts of East Azerbaijan, on the morning of Thursday, June 12, 1401, Engineer Seyyed Ezatullah Zarghami arrived in East Azerbaijan to visit the historical, cultural and industrial capacities of East Azerbaijan.
During his one-day visit, in addition to inaugurating the Tabriz School of Art Museum, the Minister of Heritage, Culture, Tourism and Handicrafts will visit the cultural, industrial and historical capacities of Azarshahr and Osko.
During this trip, Engineer Zarghami will visit the families of the martyrs in Azarshahr and will also visit the historical bazaar, the old tree, the batik printing workshop and the Osko Mosque.