International
Middle East
Turning the Resistance Front into a social issue is the most important achievement of Martyr Soleimani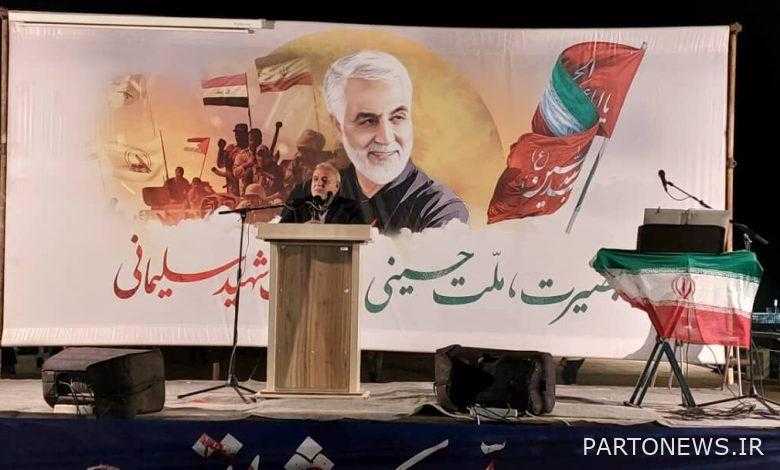 According to IRNA, Sardar Haj Mohammad Ali Sheikhi said on Monday night at a special Fatimid soldier ceremony commemorating the second anniversary of the martyrdom of Haj Qassem Soleimani: .
He added: "The West and arrogance had placed the Middle East in their sphere of influence 200 years ago by creating various wars, and Martyr Soleimani was able to end their presence in this region after many years."
The commander of Nabl Al-Zahra in Syria stated: Martyr Soleimani with the least force in this region was able to turn the Middle East, which was the hotbed of the West, into a place of murder and defeat for the West, and now Hezbollah forces inherit the protection of this achievement.
He added: Martyr Haj Qasem Soleimani was the most unequal battlefield from the time of the imposed war to his presence in the Resistance Front, who was able to turn the Resistance Front from a military issue to a social component by relying on this feature.
Sardar Sheikhi recalled: "This change was only by influencing the people of the Resistance Front, which eventually led to the gathering of Afghan, Syrian, Lebanese and even Yemeni fighters to form the core of the resistance under its umbrella."
He pointed out that in addition to Shiites, this martyr was sympathetic to the Yazidi, Christian, Sunni and all countries of the Resistance Front, adding: "Finally, using all these characteristics, Martyr Soleimani was able to bring ISIL to its knees as a puppet of the United States and the West." Took out.
Simultaneously with the second anniversary of Martyr Soleimani and the Fatimid era, the people and mourners of Kish Island held a procession of lovers at the recreational pier.
On the morning of Friday, December 4, 2009, Sardar Qassem Soleimani was martyred in an American helicopter attack at Baghdad airport. The attack killed along with Soleimani, Abu Mahdi al-Mohandes, commander of Hezbollah in Iraq and deputy head of the Iraqi People's Mobilization (Al-Hashd al-Shabi), and a number of other Iraqi fighters. The attack was carried out on the direct orders of the President of the United States.
.