Statistics show that 20 to 30 percent of men face erectile dysfunction problems during their lifetime. The inability to maintain an erection makes sexual intercourse generally impossible. Viagra is the brand name of sildenafil citrate, which helps treat erectile dysfunction by increasing pulmonary arterial blood pressure. For more than 20 years, this drug has been one of the best-selling sexual drugs in pharmacies. To know more about Viagra, stay with us until the end of this article.
What is Viagra?
Viagra is a drug that has been confirmed to be effective in treating erectile dysfunction and can be used by men over the age of 18. Viagra contains the drug sildenafil. This drug belongs to a class of drugs called phosphodiesterase type 5 inhibitors. Viagra is effective in maintaining erection by increasing the blood flow in the penis. But be careful that this drug is only effective when the person is sexually stimulated at the same time. About 20 to 30 minutes after taking Viagra pills, you can clearly see its positive effects. In general, they use Viagra in the following cases:
Treatment of erectile dysfunction
Improvement of pulmonary arterial hypertension
Reduction of vasospasm
Treatment of ischemia and wounding of fingers and toes
Viagra pill dosages
What are the available dosages of Viagra tablets? Viagra is sold in 3 doses in pharmacies:
The dose you are prescribed will depend on: your age, medications you are taking, liver and kidney problems, and other health conditions.
Viagra was first marketed in 1998 and became available to the public.
Is Viagra good for erectile dysfunction?
Yes; Viagra has been shown to be effective in the treatment of ED in several clinical studies. In these studies, men who used Viagra tablets had a greater ability to get and maintain an erection. Therefore, they had experienced more successful sex. In all studies, 43 to 83 percent of men who used Viagra had better erections.
How to take Viagra pills
What is the correct way to take Viagra? Viagra should be taken 1 hour before sexual intercourse. Of course, this time can vary between 30 minutes and 4 hours before having sex. Some sources even state that this pill can be taken 20 minutes before sex.
How long does Viagra take to work?
Viagra usually begins to work between 30 and 60 minutes after consumption. But Viagra itself does not cause erection. You must also be sexually aroused. Viagra tablets are effective in the body for up to 5 hours. This means that if you are sexually aroused, you should be able to maintain an erection for up to 4 hours after taking a dose of Viagra.
Even though Viagra works in your body for several hours, you should not have an erection the whole time. In fact, very rarely, Viagra can cause priapism (long-term and lasting erection). Priapism is an emergency and needs immediate treatment. If not treated, this condition can damage the tissues of the penis and cause irreversible erectile dysfunction.
It is unlikely that this will happen; But if your erection lasts more than 4 hours after taking Viagra, be sure to see a doctor or call the emergency room.
What can we do to make Viagra work faster?
We explained to you what Viagra is. The point is that if you take Viagra on an empty stomach, it may have a faster effect. But if Viagra is used with food, including a high-fat meal, it will probably take longer to take effect.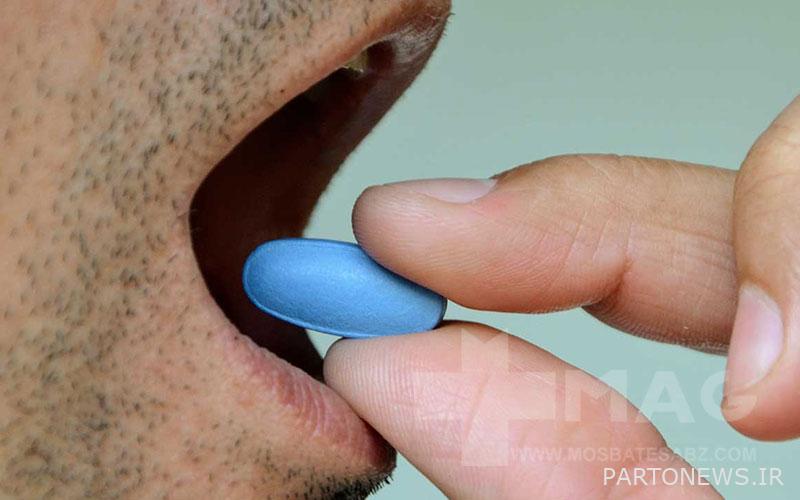 How long does Viagra stay in the body?
After taking a dose of Viagra, the level of the drug in your body gradually decreases over a few hours and reaches a low level after 4 hours, at which time the drug will no longer be effective. But it actually takes about 24 hours for Viagra to be completely eliminated from your body.
What are the side effects of Viagra?
If you want to know what are the mild and severe side effects of Viagra, stay with us. Of course, the list we provide may not be complete and this drug may include other side effects:
Mild side effects of Viagra tablets
These mild side effects include the following:
Headache
hot flashes
Indigestion
Changes in vision (blurred vision and sensitivity to light)
nasal congestion
back ache
Muscular pain
nausea
dizziness
urticaria
Most of these side effects disappear within a few days. Otherwise, you must see a doctor.
What are the severe and serious side effects of Viagra?
Now we come to what are the serious and dangerous side effects of Viagra? Fortunately, serious side effects for this drug are not very common, but these side effects may be seen rarely, in which case you should contact your doctor:
Non-arterial anterior optic neuropathy: which causes damage to the optic nerve. Symptoms can include: sudden decrease in vision in one or both eyes, sudden loss of vision in one or both eyes.
Decrease or loss of hearing: May be accompanied by tinnitus and vertigo.
We will provide you with more explanations about some other side effects of Viagra:
Allergic reaction to Viagra
Like many drugs, some people may experience allergic reactions after taking Viagra. In clinical studies, less than 2% of people who took Viagra had an allergic reaction. What are the symptoms of a mild allergic reaction to Viagra? The following:
skin rash
itching
hot flashes
If the allergic reaction is severe, it can include:
Swelling under the skin, usually in the eyelids, lips, hands, or feet
Swelling of the tongue, mouth, or throat
Difficulty breathing
If you have a severe allergic reaction, you should call the emergency room or see a doctor immediately.
priapism
What are the other side effects of Viagra? As we said, rarely Viagra can cause priapism. Priapism is a prolonged and painful erection that is considered abnormal. Propapism can damage the penile tissue if left untreated. So a person who suffers from this problem should see a doctor immediately. If the erection lasts more than 4 hours, the person probably has priapism.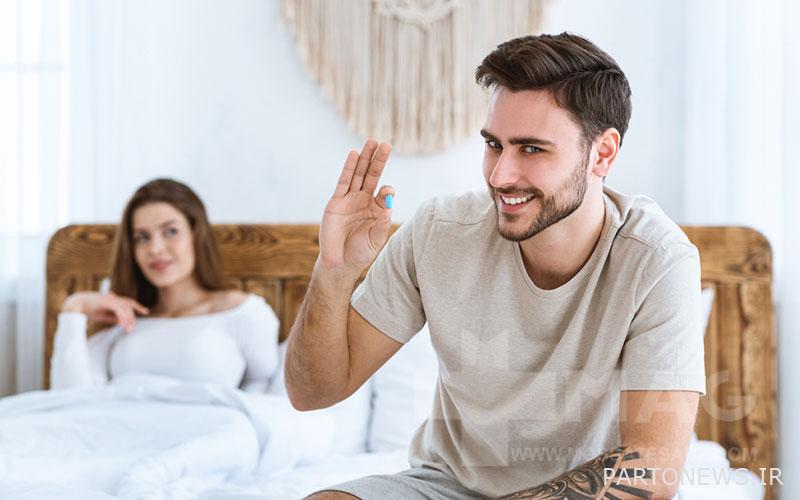 Lower blood pressure
Viagra can temporarily lower blood pressure after taking it. But this problem does not happen to the majority of people. A sudden drop in blood pressure can be dangerous if you have certain heart diseases.
You should not take Viagra if you are using nitrate medications to treat chest pain. Also, you should avoid using Viagra if you are taking a drug called Riociguat. Using Viagra together with these drugs may cause a drop in blood pressure and lead to a heart attack.
If you have heart or blood pressure problems, be sure to consult your doctor before taking Viagra.
Heart attack, irregular heartbeat and stroke
What are other rare side effects of Viagra? In very few cases, heart attack, irregular heartbeat and stroke have also been seen. These problems are more likely to happen to someone who has had heart problems before. If you feel chest pain after taking Viagra, stop using the drug and see a doctor.
Headache
One of the common side effects of Viagra is headache. Headaches, hot flashes, and dizziness occur because Viagra dilates blood vessels. This means that this drug does not only affect the veins of the penis. If you have a headache after taking Viagra, you can take acetaminophen. But if your headache does not go away, you should consult a doctor.
Viagra side effects in older men
What are the side effects of Viagra in elderly men? Men 65 and older will have higher levels of Viagra in their blood after taking a single dose of this drug than younger men. The presence of these higher levels can increase the probability of side effects that we mentioned. Therefore, a lower dose of this medicine is usually prescribed for the elderly.
How to reduce the side effects of Viagra?
Pay attention to the following points:
To relieve headache, hot flashes and dizziness: Lie down and rest. Never drink alcohol. Turn off the lights around you and finally take painkillers.
To relieve possible indigestion after taking Viagra: Take this medicine with a light meal.
If the symptoms do not go away, see a doctor.
Viagra dosage for erectile dysfunction
The usual dose of Viagra for erectile dysfunction (ED) is 50 mg. You can use this dose 30 minutes to 4 hours before sex. It is recommended for most people to take their dose 1 hour before intercourse. Viagra should not be used more than once a day. The maximum dose of Viagra is 100 mg, but use this amount only if prescribed by a doctor.
Does Viagra delay ejaculation?
Viagra works by increasing blood flow to the penis to improve erections. This drug has no effect on increasing the duration of sexual intercourse. That is, it does not delay ejaculation. But in some studies, it has been mentioned that Viagra may be effective in the treatment of premature ejaculation!
Another sex product that you can use to help improve premature ejaculation is a delay spray.
What is the alternative to Viagra?
In addition to Viagra, you can also use the following drugs to treat erectile dysfunction:
Tadalafil
Vardenafil
Avanafil
Alprostadil
Testosterone therapy is also used if the amount of this hormone in the body is low.
Viagra drug interactions
Now that you know what Viagra is, get to know its drug interactions. These drugs should not be taken at the same time as Viagra:
Nitrates such as nitroglycerin, isosorbide dinitrate, isosorbide mononitrate.
Guanylate cyclase stimulators eg Riociguat
Blood pressure medications
PDE5 inhibitors
Antifungal drugs
Erythromycin
Ritonavir
This list is not complete. Check with your doctor about all medications you are taking that do not interact with Viagra.
final word
What is Viagra? A drug to fix erectile dysfunction that we talked about in detail in this article. In the following, we will also address frequently asked questions about this drug. Also, if you have any questions, write in the comments section so that we can answer you as soon as possible.
Frequently asked questions about Viagra
What is Viagra ointment?
Apart from Viagra pills, Viagra delay gel is also available in the market, which helps in the treatment of premature ejaculation.
Viagra pills for women?
Viagra is not effective for women and its use is only approved for men. There is little evidence that Viagra increases sexual pleasure in women.