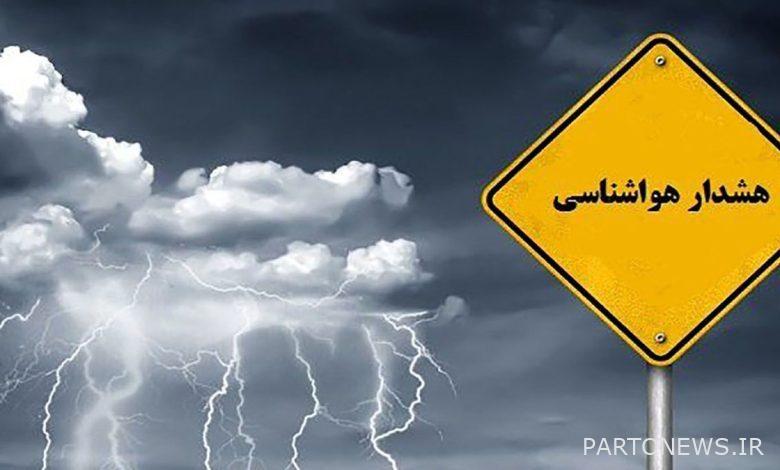 Iran's Meteorological Organization issued a yellow warning and announced that the rain system will enter 25 provinces and temporary strong winds will occur in some places.
According to Moj news agency, the country's Meteorological Organization has issued a yellow warning about the arrival of a rain system, temporary strong winds, thunderstorms in tropical areas, snowfall at high altitudes, and hail prone areas.
This weather condition on Wednesday (November 25) in West Azerbaijan, East Azerbaijan, Zanjan, Qazvin, Qom, Alborz, Tehran, Markazi, Hamadan, Kurdistan, Kermanshah, Ilam, Lorestan, North and West Isfahan, Khuzestan, Chaharmahal and Bakhtiari. On Thursday (November 26) in West Azarbaijan, East Azarbaijan, Qazvin, Zanjan, Tehran, Alborz, West Semnan, Kermanshah, Kurdistan, Hamedan, Central, Qom, West and North Isfahan, Lorestan, Ilam, Khuzestan, Chaharmahal and Bakhtiari, Kohgiluyeh. and Boyar Ahmad, northwest of Fars, north of Bushehr and on Friday (November 27) in Khuzestan, Bushehr, Fars, Kohgiluyeh and Boyar Ahmad, Chaharmahal and Bakhtiari, Lorestan, Isfahan, Yazd, South Khorasan, Razavi Khorasan, East and South of Semnan, North Khorasan , the northern half of Kerman is expected.
As a result of these hazards, there is the possibility of slippery roads, disruption of intercity travel, especially when crossing mountain passes, the possibility of limited and local flooding, the possibility of rising river water levels, the possibility of flight delays, and the possibility of damage to the agricultural industry.
The National Meteorological Organization recommends caution in trips outside the city, caution in mountaineering activities and movement of nomadic nomads, winter road preparation especially in the passes of cold regions, and caution in placing agricultural inputs in the open air.
A yellow warning means that an atmospheric phenomenon will occur that may cause disruptions in travel and daily activities. This warning is issued for people's awareness so that they can be prepared to face an atmospheric phenomenon that is slightly more intense than usual. On the other hand, the authorities are informed about these warnings so that they can take measures if necessary.