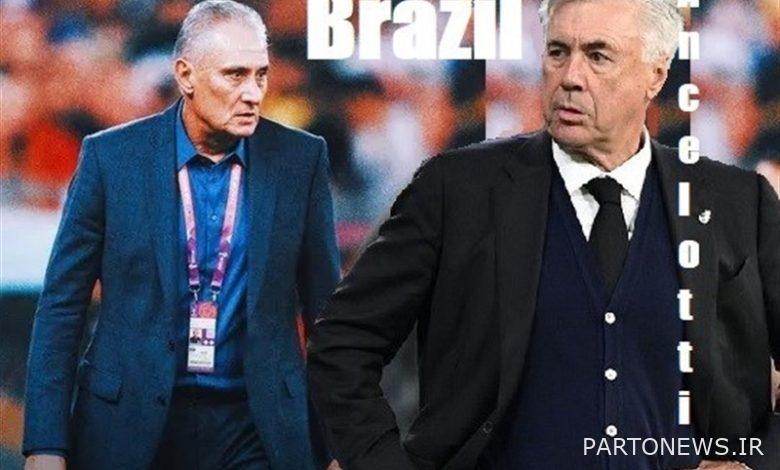 According to Tasnim news agency, the elimination of the Brazilian national football team in the quarter-final stage of the 2022 World Cup in Qatar has made the Brazilian Football Confederation think about choosing a new coach. According to the report of the Brazilian site "UOL Esporte"; The confederation's plan is to start a new cycle with a top-level foreign coach, focusing on the 2026 World Cup. Even before the Qatar World Cup, the Brazilian Football Confederation considered two famous and influential coaches to replace Tite, one of them was Pep Guardiola, the Spanish coach of Manchester City, and Carlo Ancelotti, the Italian coach of Real Madrid. .
According to this report; Guardiola, who previously dreamed of coaching at the national level, has not shown much interest in accepting the challenge of coaching the Brazilian national team, and considering that in November he extended his contract with Manchester City until June 2025, the Brazilian Football Confederation His name is lined up to lead Selecao. The Brazilian Football Confederation held talks with Ancelotti in October, and the Italian coach informed the heads of the confederation that he would accept negotiations only if the position of coach of the Brazilian national team was vacant, and that he plans to finish the season with Real Madrid and only At the end of the current season and in June 2023, he is ready to accept the leadership of the Brazilian national team.
63-year-old Ancelotti has a contract with Real until the end of June 2024, therefore, if the Brazilian Football Confederation reaches an initial agreement with this Italian coach, he should enter into negotiations about his departure from this Spanish club, and more importantly, a temporary coach should be appointed to lead the national team. Find Brazil soccer for the next matches.
Carletto, who is one of the most honored coaches in the world, and has won trophies in every country he went to coach, including Italy (Milan), England (Chelsea), France (Paris Saint-Germain), Germany (Bayern Munich) and Spain (Real Madrid). and has four championships in the European Champions League in his career, currently Brazilian players such as Vinicius Jr., Rodrigo and Eder Militao are working under his supervision in Real Madrid.
Brazil's football confederation president, Ednaldo Rodriguez, recently said he did not rule out hiring a foreign coach to replace Tite, who led Seleção from 2016 to 2022 and resigned after Brazil's elimination from the World Cup in Qatar.
However, it is said that the Brazilian Football Confederation is also monitoring an option such as Fernando Diniz, who has a good relationship with players such as Dani Alves, Thiago Silva, Bruno Guimarães, Anthony and especially Neymar.
Portuguese coaches can also consider this confederation to replace Tite because they also do not have language problems to communicate with Brazilian players.