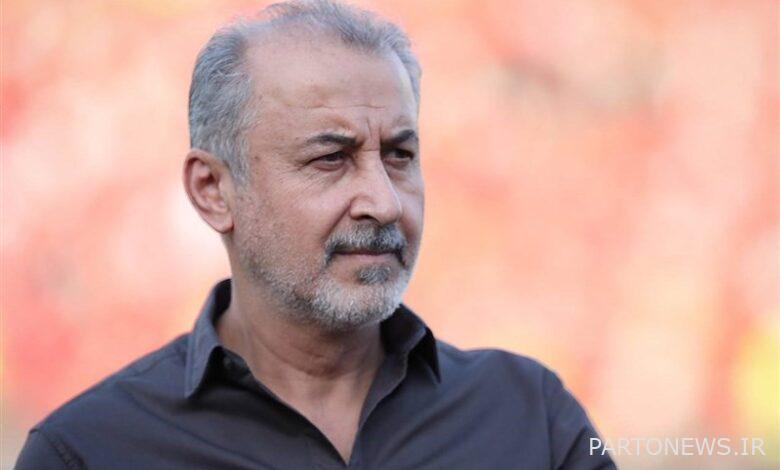 According to the sports reporter of Tasnim news agency, after Persepolis' 2-0 victory over Esteghlal of Tajikistan, Reza Darvish said: "God was kind and the children got their reward for their very good and enjoyable game." I dedicate this victory to the fans who came to the stadium after a long time. The fans gave excitement to the team and Persepolis scored 2 goals and could have scored more.
About the presence of VAR and its help to Persepolis, he said: God willing, an environment will be created so that the teams of the Premier League can benefit from VAR. At least no one complains after the game. I am sure that in the last minute, Bahoui was given a penalty and the refereeing experts think that it will be a penalty, but because VAR recognized it, everyone obeyed.
CEO of Persepolis Club in response to the question that they reached an agreement with the privatization organization and were able to make a payment? He noted: "Yes, the private organization showed kindness." There were some difficulties regarding the administrative procedures and I think tomorrow we will pay some of the players' options. Of course, we should not ignore the fact that costs were imposed on us that we had no role in. In the last few months, we gave 650,000 euros to Radoshovic, and if we didn't have to pay this 40 billion, we would have given more than 50% of the options. One person demanded 20-30 thousand dollars from us in 1995-1996, and he got a judgment of 30 billion against us. If it wasn't for these, we would have paid both bonuses and options, and the players were right.
Darvish regarding this matter that in the meantime, a veteran of Persepolis also withdrew 72 thousand dollars and does this go back to the money? He said: This is a court order and it is not that no one wants it to be done. This ruling is final and the money must be returned to Persepolis' account.
In response to the fact that Golmohammadi still says that he does not have a contract with Persepolis club, he clarified: There have been problems for a number of our players that have hurt them mentally. We are not indebted to team members. No one can compare our team with another team. Other teams spent 500 or 700 billion last season and did not win a championship. A team that has won 3 championships usually has its player not looking for options and rewards because he has done everything he had to do. Unfortunately, some expenses have been imposed on us and some undisclosed debts have been confirmed by the government auditor that should be returned to the club's account. God willing, a space will be provided to reward this uniformity and brilliant results of the team.
CEO of Persepolis Club in response to the question that he knows how much was the amount of fraud from Persepolis players? He said: No, I was not their accountant.
In response to the fact that in the past two weeks, Darvish spoke about the absence of Karim Bagheri in Persepolis, and the former coach of Persepolis denied those words, and said: Karim Bagheri also has some problems, while I have already said that Bagheri is one of our football greats. And now there is no room for continued cooperation. Our team is not short of greats and Persepolis is the cradle of Iran's football greats, and every now and then one person has to leave to replace another person. God willing, a space will be provided so that if Bagheri is interested in working in football, he can work elsewhere.
He answered a question that he had an agreement with the CEO of Esteghlal that the two clubs would not sue each other. He clarified: No, the league organization decided to review the contract of all 16 Premier League teams and not depend on the fact that it will be reviewed if a team complains. Since last Wednesday, it has been decided that all Premier League teams will have their contracts reviewed.
In response to the fact that a team from Esteghlal and Persepolis can play in Azadi Stadium, the CEO of Persepolis Club said: Of course, if a team is supposed to play in Azadi Stadium, it is based on the evidence, evidence and logic of Persepolis. that he should play in Azadi, because Persepolis played today and in a few days he has to go to Anzali to play with Melvan and then come back to Tehran and go to another city and then go to Tajikistan, do you think Ramaki will stay for the team? The result is Yasin Salmani, who tore a ligament due to the many pressures he suffered.
Darvish in response to the question that he talked to Asgarian about this issue? He said: Yes, they also accept the logic that if a team is to play away from home, the team whose games have a longer time interval should go. We are in the Asian Champions League and the time interval between our games is short.
In response to this question, did they take any action regarding the compensation of Morteza Pouraliganji's injury? He said: This work is proceeding according to its legal procedure and we will work as the international working group carried out its work on the Lokadia case. The player's health is important, but everyone is looking for compensation and not Morteza Pouraliganji's health.
CEO of Persepolis club reminded: Pouraliganji is one of the symbols of Iran and Persepolis football and we will renew his contract in the next few days.