Balls and nets
Sport
Games of Islamic countries The glow of Konya's fourth gold was around Bakhshi's neck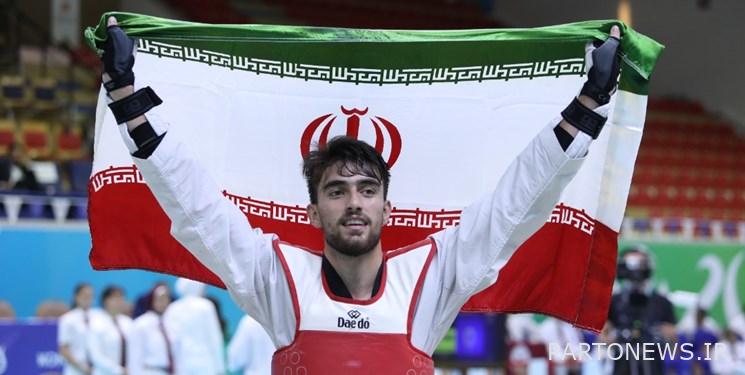 According to Fars news agency, the fifth edition of the Turkish Islamic Games will be hosted by the city of Konya, where 248 taekwondo players from 39 countries will compete for four days under the judgment of 32 judges, and the Iranian national team will compete with 15 taekwondo players. He faces his competitors in both men's and women's divisions.
On Friday, August 21, Amir Mohammad Bakhshi, representing the weight of -74 kg, was successful in the first round with a break, and then succeeded in defeating Van Dijk from Suriname in 2 rounds of the fight. In the following, Bakshi was able to win against Omar Al-Halo from Jordan by giving 5 warnings to the opponent in the first round and winning in the second round; He secured his bronze medal while advancing to the semi-finals.
In the semi-finals, Bakhshi defeated Jesurbek Jaysanov from Uzbekistan and the champion of Asia with two breaks and became a finalist. In the final, Bakhshi faced the representative of Palestine and in the end won the match with a score of 2-0 and won the gold medal of the fifth edition of the Solidarity Games of Islamic countries.
For the Iranian national team so far, Amir Mohammad Bakshi, Naheed Kiyani, Hossein Lotfi and Ali Ahmadi have won 4 gold medals, Ghazal Soltani, Zainab Esmaili and Sayeda Narges Mirnorullahi have won 3 silver medals, Mehdi Haj Musaei, Mehran Bakhdari, Mohammad Sadegh Dehghani and Nastern Walizadeh have won 4 medals. They have won a bronze medal for the Taekwondo national team.
end of message/
You can edit this article

Suggest this article for the first page