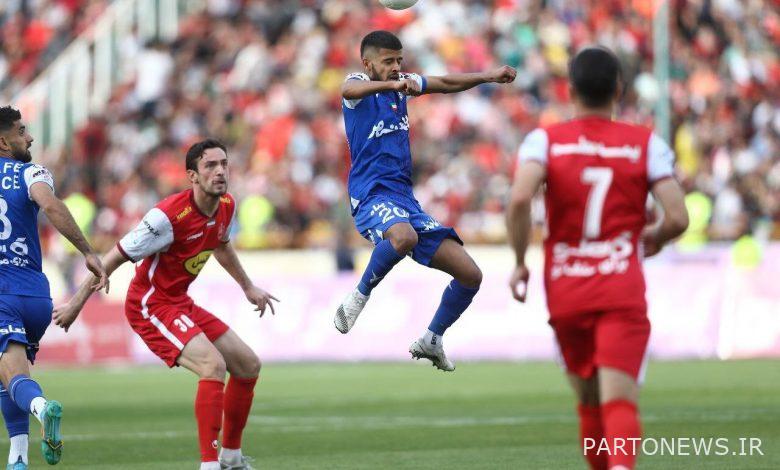 According to the reporter of Mehr, the final of the National Football Cup will be held at 19:45 this Wednesday between Esteghlal and Persepolis, so that Azadi Stadium will host the 111th derby of the capital.
The last confrontation between the two teams took place in the final of the elimination cup in 1378, which was accompanied by a 2-1 win for Persepolis; A meeting that turned July 20, 2008 into a special event in the heart of the capital.
Now, after 24 years, two teams will face each other again to win one of the most important football cups of the country. By winning the Premier League, Persepolis is looking for a golden end to its football season. If this team wins, it will not only reach the elimination cup, but will also automatically win the country's football super cup, so that Yahya will create an important triple in Persepolis.
On the other hand, Ricardo Sapinto, head coach of Esteghlal, after winning the Super Cup in the season 1401-1400, now wants to win another important trophy with Esteghlal. He, who was on the verge of winning the Premier League with his team, lost to Persepolis and ended his career in the league with the third place in the table.
Now, Tehran is once again going to spend a football night to present the Golden Cup to one of the city's two most popular teams.
Yahya Golmohammadi does not have Leandro Perry for this game due to suspension. He will enter the finals without any suspension, while Kevin Yamaga and Reza Mirzaei will definitely not play due to injuries, but Aref Gholami still has a chance to play despite his injury. In addition, Mehdi Mehdipour cannot play for Blue Poshan due to receiving the second warning in the semi-final game.
In the press conference before the game, Gol Mohammadi considered his and his team's focus to win another championship in the current Iranian football season very high and tried not to react to marginal issues like his Portuguese counterpart in Esteghlal.
At the same time, the Esteghlal team repeatedly requested the use of a foreign referee after appearing in the finals of the elimination cup, but the referees committee finally gave the whistle to Ashkan Sohri.
On Wednesday night, Tehran has no choice but to share tears and sadness in the face of the loser of the final with the joy and happiness of the champion's fans, so that a special night is waiting for the capital.
If Persepolis wins, this team will also win the Super Cup and there will be no news of this match. Otherwise, with Esteghlal's championship, Iranian football fans will have to wait for another derby in the form of the Iranian Football Super Cup (Champion of the Premier League and the Champion of the Knockout Cup) in a few months.