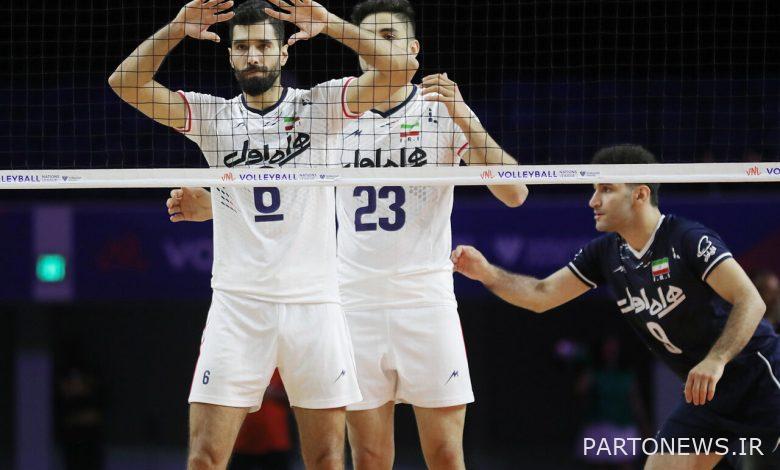 According to Mehr reporter, Iran's national volleyball team in the third match of the third week of the Volleyball League of Nations 2023 Sunday morning from 3:30 am Anaheim America will face Argentina. Internationals Morning volleyball Although they tried very hard against Bulgaria on Friday, they did not have the strength to defeat Bulgaria and the match ended with a result of 3-2 in favor of the Bulgarians. Atai's students, who appeared in the third week of the competition due to the disruption of the Americans without the presence of their head coach; they At the first They lost the same match against France and suffered a heavy defeat in that match with the result of 3-0.
According to the approval of the World Federation of Iran points in the third week of the competition "freezer» and the team's win and loss has no effect on the standings of the League of Nations; But Anyway Iranian volleyball is one of the contenders of the Asian continent, and the poor performance of the national team in this period of competition has worried volleyball fans. Behrouz Atai's students have recorded 10 losses and only two wins in their record and are in the 11th place of the table.
Now, the national volleyball players, who are under a lot of pressure these days, have to face the strong Argentine team in their third match. The team is in the fourth place with 24 points and has confirmed its promotion to the next stage and is now trying to improve its position in the Nations League standings.
Undoubtedly, facing Argentina is not an easy task. This team in the game Previous He played against the United States and was able to defeat his opponent at home, even the longest rally of the Volleyball Nations League was dedicated to the match between Argentina and the United States; Because in the fourth set, this match ended with a score of 43-41 in favor of Argentina.
The two teams of Iran and Argentina have faced each other 16 times so far, of which Iran's share has been 9 victories; Of course, in the League of Volleyball Nations, these two teams met three times, and only once Iran's top team managed to defeat Argentina under the leadership of Igor Kolakovic.
Argentina's national volleyball team has participated in the Olympic Games eight times in its work file, which was in 1988 and 2020 Succeeded in winning the position the third And the bronze medal.
Since 1960, when they participated in the World Championship for the first time, Argentina's volleyball men have participated in 13 rounds and won the third And bronze medal in 1980 for best performance they It is in these competitions.