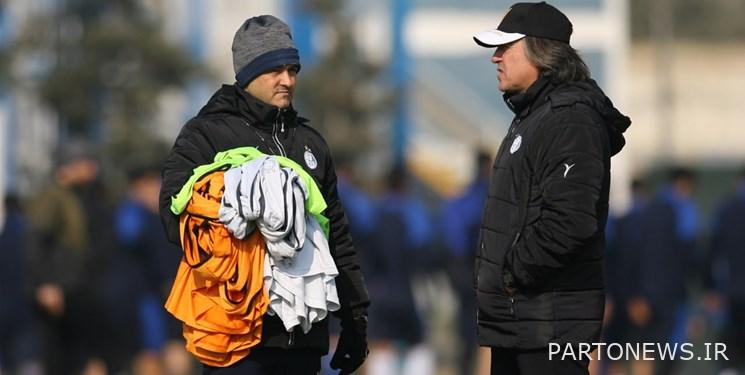 According to Fars news agency, Roy Mata said about Esteghlal's match against Aluminum Arak: "It was a very difficult game." We knew that Aluminum works very well in defense and counter-attack and has very good players. That is why they had not lost in 10 matches before facing Esteghlal. Against Sepahan, Persepolis and Tractor had drawn and we knew that we had a very difficult game ahead of us, but we just had to win.
He added: "Tactically and physically, it was a difficult match and I think our team performed very well." We tried to be fully focused in this match and we could have won by more than one goal. We had many scoring opportunities, but we are happy to get 3 points in this match.
The coach of Esteghlal, referring to the comments made by the CEO of Aluminum Club, said: I don't know if he saw what happened or not? I was leaving the dressing room and entering the field when I saw a big bottle thrown towards us and hit our head coach. This is an incredible event. A water bottle that was almost full of water. Imagine if it is thrown from 20 meters, how intense it will be and it will be like a piece of stone that hit our head coach. Thank God this bottle did not hit Sapinto's head, otherwise it was not clear what would happen. Now our head coach's leg is bruised. It is unbelievable that the CEO of the opponent's club says that our head coach staged a scene and there was no problem!
Mata added: I think he did not see this scene. Even if he didn't see the scene, I don't know why he should talk like that. Maybe there is a problem that they want to provoke our coach again. Instead of congratulating your opponent after the game. I don't know the reason and purpose of raising these words.
Esteghlal's coach said: "This is completely false." During the game, everyone must have seen and I also saw that their player came to the side of our head coach and said: I apologize for throwing an object at you and I hope nothing happened to you. Sapinto also thanked him for this speech.
He added: When he was being replaced, our head coach told him, thank God that you were replaced, because you are a good and dangerous player and you performed well. We saw in the analysis before the match that he is a good player and can be dangerous. He also spoke very well. I said the same thing on the bench and I was happy to replace him. I don't know where the other words came from. Maybe he doesn't know our conditions and hardships. We do not know the conditions of the next season. There is nothing certain about the future, whether we are here or not.
end of message/
You can edit this article

Suggest this article for the first page