Balls and nets
Sport
Motahhari: Persepolis runner-up is not less than the champion / I do not know why we were under so much pressure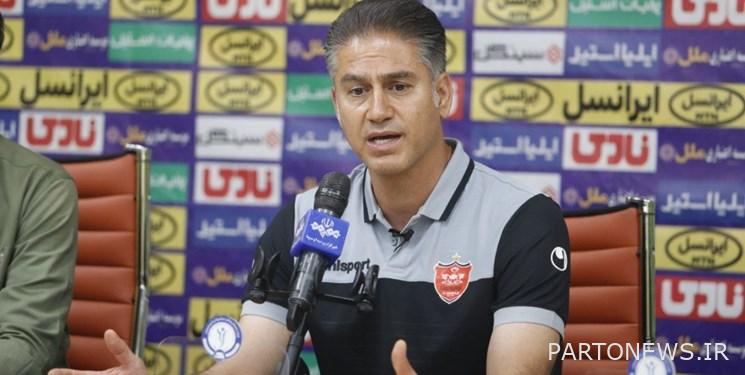 According to the sports correspondent of Fars News Agency, Hamid Motahari, after the 1-0 victory of the Persepolis football team against Fajr Shahid Sepasi, attended a press conference and said: I tell the media not to get tired. I hope you succeed in your serious mission and always show the facts to the people. Regarding the game, I must say that we have gone through an erosive season. We did not have 10-11 players today and we played on a Sunday. This situation was very difficult for us. The Fajr team rested more than us and rebuilt itself.
He continued: "I think Fajr played on June 25 and had more opportunities to prepare." They were a very good team. In the first half, we played floating football and we had a lot of transfers and we scored, but in the second half, the Fajrs were better than us and we have to accept that. This was due to our tiredness of trying to control the game. Fajr did better than us and was looking to score from free kicks. Congratulations to the good Fajr Sepasi team, not for its downfall, but for the good game it played against us.
The coach of the Persepolis football team noted: "We analyzed them." It is true that Fajr performed poorly in terms of results, but it was technically very high quality. Many times they did not have the right to lose. Finally, thanks to all the players. From Seyed Jalal who is the eldest of the team to Mohammad Omari who is the youngest player; Everyone tried and I tell all people not to get tired. Thanks also to our good, real and appreciative fans who supported us.
Regarding the match between Persepolis and Traktor, Motahhari said: "Nothing has been announced to us yet." We wanted the game to be assigned as soon as possible, but maybe the respected disciplinary committee had its own arguments and therefore the vote will be announced late, but we also expect the vote to be announced sooner.
In response to the issue that when Mourinho won the second title with Manchester, it was one of the best years of Manchester, this year Persepolis was also the second and whether it was a difficult year or not, he clarified: When you are a player with a coach in Persepolis You have to have a winning mentality and you always have to strive for the championship. This year, we also tried to win, but there were some shortcomings, such as the closed window and financial conditions, etc., which I do not want to go into details.
The coach of Persepolis football team said: all these are not excuses; Despite all the problems we had in the family, I think this runner-up is no less than a champion. We got 60 points today and we can get 63 points by playing with Traktor, while the same Persepolis won with 61 points under Branco. In terms of scoring formula in 30 weeks, we managed to get an average of 2 points plus one. Our team was strong, but I do not know why so much pressure was put on our team. We accept criticism because we want to move forward. Criticism must be on the path to progress.
Motahhari said about whether he has an offer to lead another team for the next season or not: "We had a difficult year this year and I, the technical staff and the players were under a lot of pressure." We have to rest for a few days. I do not want to brag. I had suggestions in these 3 years, but I had my own principles. Some may not agree, but I am proud to be committed to my team and to work alongside Golmohammadi. I am proud to be the coach of Persepolis. It remains to be seen how the situation will develop and what will happen in the future.
According to Fars News Agency's sports correspondent, Hamid Motahari, while leaving the press conference, recited a poem with the theme of jurisprudence and metaphor, which seems to have been related to the pressures and criticisms that have been leveled at him in cyberspace.
End of message /
Suggest this for the front page