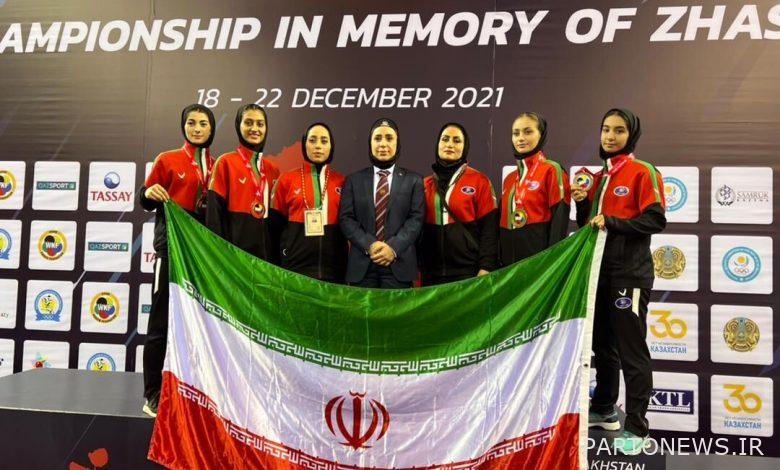 "Star Mousavi" "We had about two and a half months to attend the camp and I was not separated from my players for even one day," he told IRNA. And we lived together for these two and a half months.
He continued by saying that he is completely satisfied with the performance of his students: we tried, we worked hard and we got the result. Even when we were not given time for field training, I would take the karatekas to Chittagong Park. I also had a mountaineering program for them, and it is interesting that they never protested and were with me, and thank God our efforts paid off.
Mousavi said: "None of our players had passports and they were participating in international competitions for the first time." Intellectually; We were very close to the technical staff and the players.
He thanked his colleagues in the technical staff and said: Faezeh Turkman from Hamedan, Negar Hosseini from Kurdistan were the team coaches. Neda Alavi Karate, a veteran of our country who has good students, was also a team leader and helped. Durah Aghili was also a bodybuilder. He was also in my squad when I was in charge of the senior national team.
Regarding the criticism of the technical level of the Asian Games in Kazakhstan, the head coach of Iran's Omid team said: "This was not the case in the Omid and adult categories, and each player had to fight a few times to reach the final." How many times did they appear on the tatami in previous karateka tournaments to reach the Asian final? These conditions were the same for all teams and fortunately the Iranian team used the opportunity.
He said: "This is the first time that a caravan of this magnitude is sent to Corona in difficult financial and financial conditions, and it is really valuable that it is accompanied by a championship." Even the host was not represented in some weights and I must say that many Asian countries are not rivals for Iran.
He said: In the women's adult age category, the Iranian team was skinned and the youth, youth and hope teams were sent after a few years. I think the overall performance was reasonable and the Iranian team made good use of the medal-winning opportunities; However, I believe that in some places there were mistakes that did not lead to colorful medals.
The head coach of Omid Karate Girls added: "I did not see any violation of the rules or direction in the whole competition, and if a medal was won, it was with effort." Even in tables where there were few people, periodic competitions were held. Finally, I must say that the Iranians came out of this proud test.
The girls' Omid Karate team was the only Iranian team that was able to win medals from all opportunities. When we arrived in Almaty, we found out that there were five people in this weight, which I strongly objected to, and finally the people combined the weights of minus 50 and minus 55.
He added: "Of course, each country could have a representative, and" Zahra Bonyani "from Fars was able to win the bronze medal in the integration competitions of weights minus 50 and minus 55.
Mousavi said: "Minus minus 61" Atosella Golshadnejad "received gold from Kermanshah. This is the first time that Iranian women's karate has won a gold medal in this weight category. In minus 68, "Mobina Heidari" from Tehran won the gold medal. He also won silver in adulthood. Also, in addition to 68 kg, "Aida Khoshbakhti" from Mazandaran won a silver medal.
.