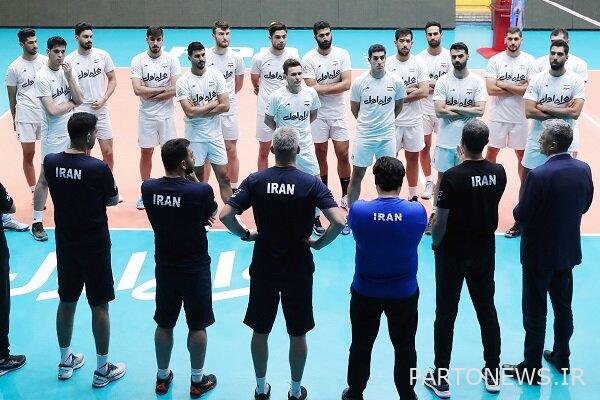 According to Mehr News Agency, quoted by the Volleyball Federation, the men's volleyball tournament of the 19th Asian Games will be held in the city from September 28 to September 4. Hangzhou It is held in China. Also, the selection volleyball competition for the 2024 Paris Olympics will be held in Brazil from October 8 to 16, and the Iranian national volleyball team will compete immediately after the Asian Games. Hangzhou will go to this country.
Iran's national volleyball team's training for worthy participation in these two events started today (Saturday, the 11th of Shahrivar) at the volleyball federation hall and will continue until it is sent to Hangzhou.
Seyed Mohammad Mousavi Iraqi, Mohammad Walizadeh, Mehdi Jaloh, Mohammad Fallah, Javad Karimi, Mohammad Taher Wadi, Ali Ramezani, Bardia Saadat, Amin Ismail Nejad, Saber Kazemi, Maitham Salehi, Amir Hossein Esfandiar, Pouria Hossein Khanzadeh, Shahrouz Homayunfarmanesh, Mobin Nasri, Mohammad Rezapour and Arman Salehi are the players present in the camp of the Iranian national volleyball team.
Mustafa Karkhana as supervisor, Behrouz Atai (head coach), Alireza Tolokian (coach), Yanas Vichic (assistant coach and bodybuilder), Abdolreza Alizadeh (coach), Amin Ali Akbari (analyzer), Nima Dehpanah and Reza Qalipour (therapist) and Mehdi Fathi. The title of masseur is the technical staff of the national team in this camp.
The trainings of Iran's "B" national volleyball team are also being followed in the volleyball federation hall, and this morning, the team's physical training was done from 9 to 11 o'clock.
Armin Afshinfar, Arshia Behnejad, Amirreza Sarlak, Taha Behodnia, Amir Golzadeh, Mohammad Reza Mouzan, Sajjad Jalodarian and Tayyab Aini are the players in this camp who follow their training under the supervision of Masoud Armat, Mehdi Hadi and Ahmed Fattah.
The head coach of Iran's national volleyball team said about the players present in the camp of teams A and B: The players of each group are not fixed and will be moved according to the training, performance of the players and the need of the camp, and there is even a possibility of inviting new players to the camp.
The Iranian national volleyball team will leave Tehran for Hangzhou at 4:30 am on Friday, September 24, and the team's training will continue until the departure in the form of five training sessions and one rest session.