Balls and nets
Sport
Volleyball Premier League Steelers in the Thought of Revenge / Martyrs and Arrows in the Final Dream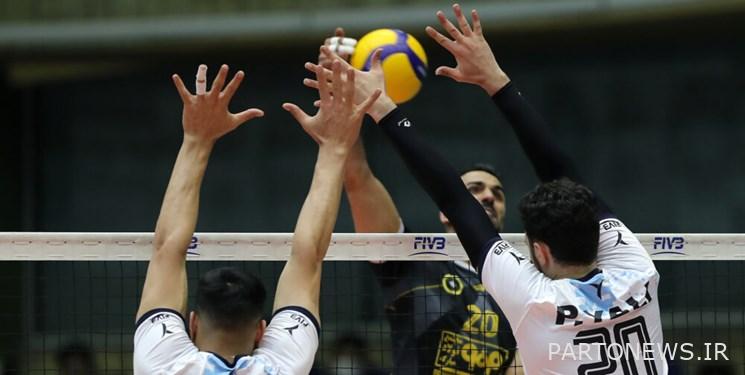 According to the sports reporter of Fars News Agency, the semi-final stage of the volleyball championship of Iran's top men's clubs, "Sardar Delhaha" Cup, will be followed from the 13th to the 17th of March with the presence of four teams: Mobarakeh Sepahan Isfahan, Peykan Tehran, Sirjan Iranian and Shahdab Yazd. The semi-final round was followed by two matches on Friday, March 4, in the Federation Hall, and the teams of Peykan Tehran and Shahdab Yazd Resistance defeated the Steelers of the Premier League to take a step closer to the final.
The return leg of the semi-finals of the Volleyball Premier League will be followed by two matches on Sunday (March 6). In the first game of this stage, Shahdab Yazd Resistance will face Sirjan Iranian Steel from 15:30. The first match between the two teams ended in a 3-0 victory for the Yazidis. Now Saeed Rezaei's students in the Sirjan Steel team will step on the field to make up for the defeat and lead the final team to the third game. Of course, according to the head coach of Sirjan, if the injuries allow this desert team.
In the second round of the semi-finals, Sepahan Mobarakeh Steel will face Tehran. The people of Isfahan, who passed the group stage in the costume of the champion team, and in the quarter-final stage, with two consecutive victories against Gorgan Pass, had an easy ascent to the semifinals.
Sepahan stopped in the first game of this stage against Peykan Tehran and now pursues only one goal; Imposing defeat on Peykan Tehran and preparing for the third game. However, Rahman Mohammadi Rad's students are working very hard to achieve this goal against Peykan, which experts say has performed very well in recent matches.
The organization of the Volleyball Federation League announced the names of the referees and observers of the return matches of the semi-finals of the Men's Premier League. The full program and the list of referees and observers are as follows:
Shahdab Yazd Resistance – Sirjan Iranian Steel; 15:30
Technical Supervisor: Masoud Yazdanpanah, Referee Supervisor: Ali Asghar Haji Kazemi, First Referee: Davood Nafei, Second Referee: Omid Fouladiwanda and Video Referee: Qader Sadeghi
Sepahan Isfahan Mobarakeh Steel – Peykan Tehran; 18:30
Technical Supervisor: Masoud Yazdanpanah, Referee Supervisor: Behrooz Jafari, First Referee: Massoud Zoghi, Second Referee: Alireza Gharib and Video Checker: Mohammad Reza Darfash Kavian
End of message /
Suggest this for the front page