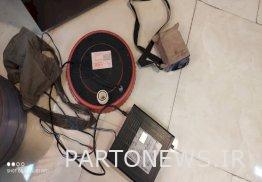 According to the Arya Heritage report, referring to the public relations of the General Directorate of Cultural Heritage, Tourism and Handicrafts of Mazandaran Province, Colonel Mohammad Reza Kordan said on 12th of February 1401, referring to two reports received by the honorary heritage collector about people with known identities who were planning to dig in their private homes, the agents of the protection unit in They were sent to the place after coordinating with the police force and with the order of the judicial authority.
He continued: these agents were able to arrest 2 people in two joint operation teams and house visits during subtle investigations and hand them over to the judicial authorities after filing a case.
The commander of the Cultural Heritage, Tourism and Handicrafts Protection Unit of Mazandaran province added: In these two operations, a metal detector along with drilling tools and equipment were discovered and seized.
Thanking his fellow provinces for informing and preventing crimes, he emphasized: the protection of cultural heritage in Mazandaran province requires the all-round participation of his fellow citizens due to the extent and dispersion of the works.
Kordan clarified: Compatriots and lovers of cultural heritage can report their reports to the news system of the Historical Monuments Protection Unit of Mazandaran Province by phone number 33391007.
end of message/