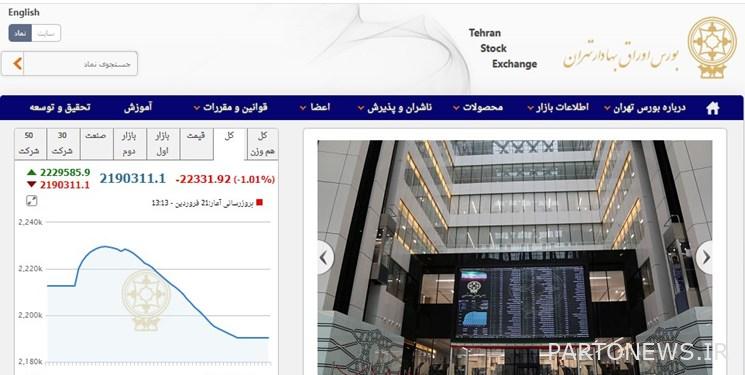 According to the economic reporter of Fars news agency, Tehran Stock Exchange Today, at the beginning, it was in a growing trend, but in the middle of the day, it took a downward trend and at the end of the trading, it reached 2 million 190 thousand 311 units with a decrease of 22 thousand and 331 units compared to the previous day.
Also, the balanced index decreased by 322 points to 687 thousand 575 points. The daily value of the market reached more than 8 million and 112 thousand billion tomans.
Today, traders traded 22.8 billion stocks and financial bonds in the form of about 1.5 million transactions worth 15,771 billion tomans. All the indices of the stock market turned red today and the total index and the price index with the weighted-value criterion decreased by one percent.
These two indicators decreased by 500% with equal weight. Free floating index decreased by 99 percent. The index of the first market of the stock exchange grew by one percent and the index of the second market of the stock exchange decreased by 98 percent.
Today, the Gol Gohar symbol had the greatest increasing effect on the stock market index, and on the contrary, the symbols of Persian Gulf Petrochemical, Mobarakeh Steel, Meli Mes, Middle East Mineral Holding, Oil and Gas Holding, Tamin Petrochemical and Pars Petrochemical respectively had the greatest decreasing effect on the stock market index.
Today, the total index increased by 65 points to reach 27 thousand 522 points. The market value of Iran's first and second over-the-counter markets reached more than one million and 513 thousand billion tomans. The base market value of OTC reached 425 thousand billion tomans.
Traders traded more than 12.2 billion shares, preemptive rights and financial bonds in the form of 683 thousand transactions worth 110 thousand billion Tomans. With this account, the value of today's stock and over-the-counter transactions reached more than 126 thousand billion tomans.
Today, the symbols of Maroon Petrochemical, Sepehr Saderat Financial, Jahan Foulad Sirjan, Zagros Petrochemical and Elektron Electronics respectively had the most increasing effect on the OTC index, and the symbols of Ariassol and Hormozgan Steel had the most decreasing effect on the OTC index.
According to Fars, although in the last few days of the year, there was a growing trend in the stock market and the index reached more than 2 million 200 thousand units, but the nature of the capital market is associated with risk and volatility, and traders must be careful before trading. They should study, consult and analyze.
By supporting the capital market, the government intends to place this market as a platform for financing large companies, and with the prosperity of listed companies, it will help the growth of production and the real control of inflation.
end of message/
You can edit this article

Suggest this article for the first page