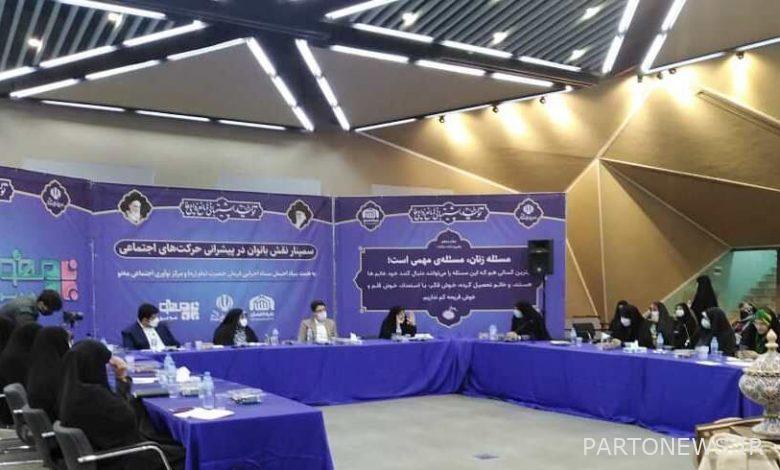 According to the correspondent of IRNA University and Education Department, Fada Sadat Hosseini on Wednesday evening in the seminar "Empowerment of Deprived Women" in Lark Garden of the Executive Headquarters of Farman Imam; The purpose of the seminar was to achieve a national model to strengthen and expand the status of women, especially women entrepreneurs and low-income people in disadvantaged areas for social activities and identify existing barriers and transfer problems to relevant officials.
In this seminar, which was held with the presence of a group of members of the Women's Empowerment Commission of the Islamic Consultative Assembly and women entrepreneurs, he emphasized: solving the problems of women, especially low-income women who are involved in various economic problems and networking women jihadists, entrepreneurs and social activists The important goals of this seminar are.
The head of the women's social base of the Ehsan Foundation affiliated to the executive headquarters of Imam Khomeini (RA) stated that this seminar was organized with the efforts of the women's social base of the Ehsan Foundation: مختلف Different groups in the field of women's empowerment, including successful women entrepreneurs Jihadists and charities explained their solutions to policymakers in the field.
Hosseini continued to present the problems in the field of women, familiarity with different business models for disadvantaged women, transfer of experience between business empowerment groups, concluding a memorandum and cooperation with top groups and examining the obstacles in the field of empowerment of disadvantaged women and Listed the existing legal gaps in the various sections of the seminar.
Regarding the support of the Ehsan Foundation for the donor groups, Hosseini said: "The Ehsan Foundation provides special support to the groups that have participated in this seminar in order to implement their empowerment models."
In this seminar, 6 women entrepreneurs presented their entrepreneurship plans as a successful model from the provinces and explained the challenges and problems ahead.
.