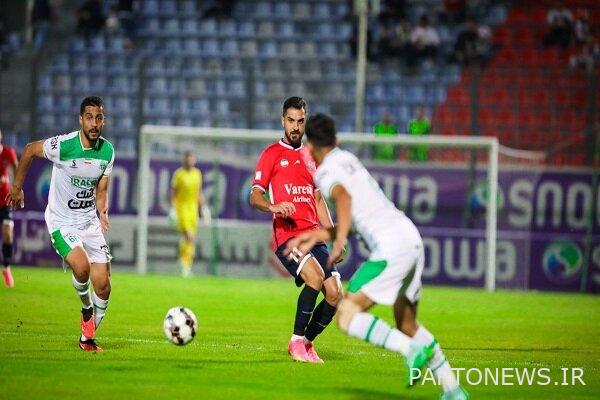 According to Mehr reporter, the first match of the sixth week of the Premier Football League was held tonight between Mazandaran textile teams and Arak Aluminum in Qaimshahr Shahid Watani Stadium, and in the end, Mojtabi Hosseini's students managed to finish the game with one to their advantage.
In the first half of this game, Ehsan Qahari, who was a member of the Nasaji team last season, managed to open Rashid Mazaheri's goal beautifully in the 3rd minute and scored the only goal of this match. Although the players of both teams had opportunities in the first half, the game ended with one goal in favor of Hosseini's students and they went to the locker room with a victory. The Nasaji team also created several opportunities, which were accompanied by the reaction of Muhammad Khalifa, the aluminum goalkeeper.
After the end of the first half, which was accompanied by the defeat of the Nasaji team, the fans who were present in the stadium showed their protest against the performance of this team in recent games by chanting slogans.
In the second half, Aluminum's team started the game better and in the 57th minute, Mohammad Mehdi Lotfi's shot went wide of Rashid Mazaheri's goal. In most of the minutes of the second half, the game took place in the middle of the field and few opportunities were created on the goals.
From the 80th minute onwards, Nasaji's attacks towards the aluminum goal increased, but the shots of Rahmati's students had no way towards Khalifa's goal. In the 87th minute, Mohammadreza Azadi shot a free kick towards the aluminum goal, but his ball went wide of the goal.
Finally, the game ended with the same goal scored by Ehsan Ghahari in the first half, 1-0 in favor of Aluminum Arak.
With this victory, Aluminum gained 12 points and temporarily climbed to the fourth place in the table, and the textile team remained in the tenth place with five points.