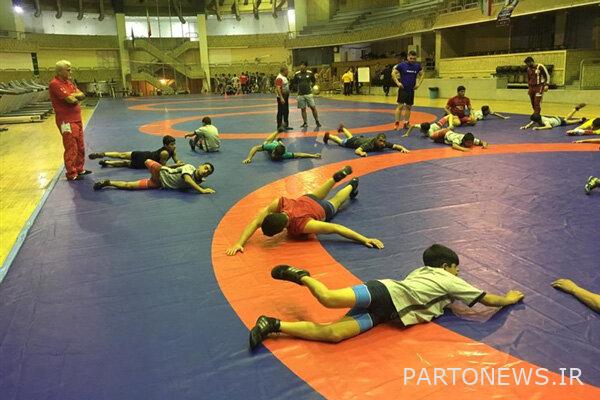 Shahram Jafari, in an interview with Mehr, stated that 39 wrestlers were invited to the first session of the Mazandaran province freestyle wrestling team to be sent to the national championship, adding: "This training will be held on Monday at the province's wrestling house."
He stated: In the weight of 34 kg, Javad Yazdani (Amol), Ali Alidoost (underwater), Amir Hossein Hamzeh (Simorgh), Soheil Jamshidi (North Savadkooh), weight 41 kg: Reza Goran (قائمشهرAli Mohammad Rahmani (Amol), Mohammad Hossein Sadeghpour (Babolsar), Amir Reza Adabi (Eastern Bandapi) and in the weight of 44 kg Sirvan Kavousi (Babol) Javad Emami (گتاب), Amirreza Enayatpour (امیرکلا) And Reza Hosseinzadeh (Amol) were invited.
He continued: Also in the weight of 48 kg Hossein Torabi (Amol), Abolfazl Rashidi (Fereydunkenar), Parsa Hassangholizadeh (Babol), Daniel Hakimi (گیلخواران), Weight 52 kg, Mehdi Hosseinzadeh (Fereydunkenar), Benjamin Ariamanesh (Joibar), Ali Asghar Soltani (Amol), Ilia Shirvani (قائمشهر) And in the weight of 57 kg: Sina Khalili (underwater), Ahmad Reza Mirzaei (قائمشهر), Mohammad Mahdi خرمکار (گیلخواران), Ilya Kaveh (Amol) and weight 62 kg Reza Afshar (North Savadkuh), Mehdi Kamyab (Mahmoudabad), Ali Asghar Najafi (سرخرود), Weight 68 kg Seyed Abolfazl Hosseini (Chamestan), Seyed Reza Taghavi (Behshahr), Milad Gholipour (Fereydunkenar), Mohammad Reza Bozorgpour (امیرکلا) Were invited to the camp.
Jafari stated: In the weight of 75 kg, Mehdi فیروزمندی (Babolsar), Abolfazl Nourbakhsh (Mahmoudabad), Amir Hossein Kheiri (Eastern Bandapi), Fardin Yazdani (گیلخواران), Weight 85 kg Abolfazl Maleki (Amol), Daniel Tavakoli (Noor), Amir Hossein Khakpa (Sari), Abolfazl Ali Mohammadi (گتاب) Were also invited to the camp.
Deputy Chairman of Mazandaran Wrestling Board said: This camp is under the supervision of Sattar شیر آقایی Senior trainer, Ali Akbar Afshar and a trainer with the introduction of Amol wrestling delegations and Fereydunkenar will be held.
.