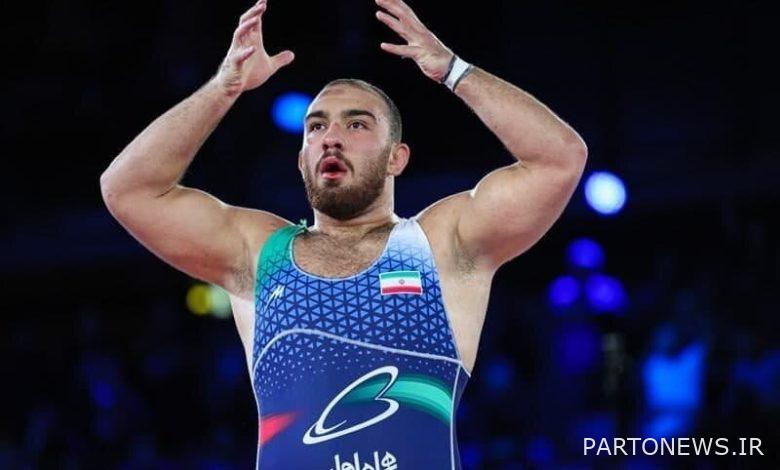 According to the Mehr news agency, the 57 kg and 125 kg international freestyle wrestling competitions of the Turlikhanov Cup as the World Union rankings were held today (Saturday) in Almaty, Kazakhstan, and in the end, our representatives won a gold and a silver medal.
At the end of the first two freestyle wrestling competitions, Amir Hossein Zare won the gold medal in the 125 kg weight category and Amir Hossein Firoozpour won the silver medal in the 97 kg weight category.
The results of our country's representatives are as follows:
In the 97 kg weight category, Amir Hossein Firuzpour, after a break in the first round, defeated Akzan Aitbekov of Kazakhstan 8-3 in the second round to advance to the semifinals. At this stage, he defeated Mohammad Rasul Rahimov of Uzbekistan 15-4 and advanced to the final. Firoozpour lost 10-0 to Slovakia's Batyrbek Cakulov in the final to win the silver medal.
In the 125 kg weight category, Amir Hossein Zare defeated Oleg Boltin of Kazakhstan 9-7 in the first round. In the match, Zare defeated Kazakhstan's Yusup Batirmurzayev 21-10 to win the gold medal.
The ranking of the top people in the weights of 97 and 125 kg is as follows:
97 kg: 1- Batirbek Sakulov (Slovakia) 2- Amirhossein Firuzpour (Iran) 3- Akzhan Aitbekov (Kazakhstan) and Magomed Ibragimov (Uzbekistan)
125 kg: 1- Amirhossein Zare (Iran) 2- Yusup Batirmurzayev (Kazakhstan) 3- Lekhavagrel Monkhtur (Mongolia) and Mohit (India)
Hassan Yazdani and Kamran Ghasempour, the representatives of our country in the weights of 86 and 92 kg, will compete against their opponents from 9 am tomorrow (Sunday).