Balls and nets
Sport
Asia championship beach volleyball The announcement of the results of the second day of the competition/the promotion of 8 teams has been decided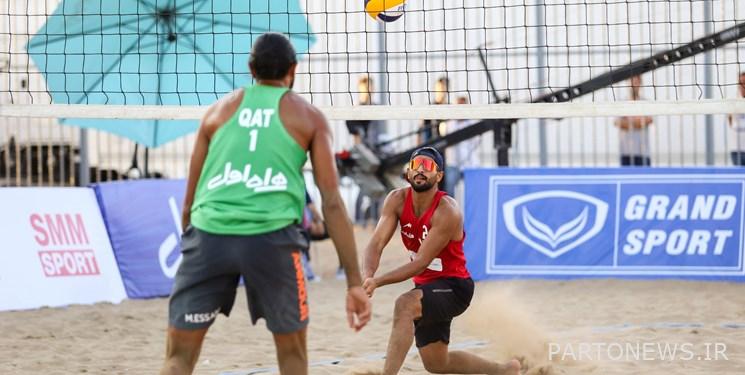 According to the sports reporter of Fars News Agency, the 22nd Asian Men's Beach Volleyball Championship began on Monday, November 23 in Bandar Abbas and will continue until November 27.
Today, Iran One (Abdulhamed Mirzaali – Arash Vakili) managed to defeat Qatar Three, Iran Two (Bahman Salemi – Alireza Aghajani) beat Hong Kong One and Iran Three (Sina Shoukti – Abbas Pourasgari) defeated the second representative of Qatar. defeated. Iran Chahar (Mojtabi Aro – Mehdi Mahfovi) lost to the representative of Thailand in their second match.
So far, the promotion of eight teams of Iran 2, Iran 3, China 1, Thailand 2, Qatar 3, Japan 3, Kazakhstan 1 and Australia 3 to the first elimination stage has been confirmed and the participating teams will try for eight more quotas tomorrow.
On the second day of the 2022 Asian Men's Beach Volleyball Championship (Tuesday, November 24), 13 matches were held and the following results were obtained:
Iran 2 (Bahman Salemi – Alireza Aghajani) 2 – Hong Kong 1 (Poi Lam Wang – Kifang Lam) Zero (21:15 and 21:12)
China one (Like Jiangha and Jia Xinwu) 2 – Kazakhstan two (Nordus Aldash – Kirill Gorin) zero (21:19 and 21:18)
Australia 2 (Mark Nikolay Diss – Isaac Crutcher) 1 – Kazakhstan 1 (Dmitry Yakovlev – Sergey Bogato) 2 (21-17, 21-23 and 10-15)
Australia three (Thomas Hodges – Zachary Schubert) 2 – Indonesia two (Gilang Ramadan – Shia Danang Pribadi) zero (21:15 and 21:12)
Iran 1 (Abdolhamed Mirzaali – Arash Vakili) 2 – Qatar 3 (Abdullah Nasim – Mohammad Ehab Zaki) 0 (21:15 and 21:16)
Australia one (Christopher McKeo – Paul Brent) zero – Japan three (Kensuke Shoji – Junpei Ikeda) 2 (20-22 and 19-21)
Thailand one (Surin Jungklang – Banlu Nakprak Heng) zero – China three (Jao Shin Lee – Tao Shue) 2 (19:21 and 20:22)
Oman two (Ahmad al-Hasani – Haitham al-Sheriki) 2 – Hong Kong two (Kayong Wan – King Wang Tse) Zero (21:7 and 21:4)
Qatar 1 (Sharif Younes – Ahmad Tijan) 2 – China 2 (Yan Wei Weng – Chao Wei Ju) Zero (21:16 and 23:21)
Oman 1 (Hood Al-Jalboubi – Mazin Al-Hashmi) 2 – India (Naresh Tampera and Krishna Raju Modunori) Zero (21:14 and 21:15)
Qatar 2 (Essam Ahmad Mahmoud – Saifuddin Al-Majid) 0 – Iran 3 (Sina Shoukti – Abbas Pourasgari) 2 (19:21 and 16:21)
Japan one (Yoshimi Hasegawa and Masato Kurosaka) one – Kazakhstan three (Artem Petrasyanets – Vladislav Postinikov) 2 (19:21, 22:20 and 12:15)
Thailand 2 (Pithak Tipjan – Puravid Taovatu) 2 – Iran 4 (Mojtabi Aro – Mehdi Mahfovi) 0 (21:17 and 21:18)
The program of the third and last day of the preliminary stage of these competitions is as follows:
9 oclock
Ground one: Iran three (Sina Shoukti – Abbas Pourasgari) – India (Naresh Tampera and Krishna Raju Modunori)
Field two: Australia three (Thomas Hodges – Zachary Schubert) – Japan one (Yoshimi Hasegawa and Masato Kurosaka)
10 oclock
Ground 1: Australia 1 (Christopher McCue – Paul Brent) – Indonesia 1 (Mohammed Ashfia – Kandra Rachmavan)
Ground two: Australia two (Marc Nicolai Diss – Isaac Crutcher) – Oman two (Ahmed al-Hasani – Haitham al-Shariki)
11 o'clock
Ground one: Qatar one (Sharif Younes – Ahmed Tijan) – Thailand three (Danwinit Keosai – Intouch Takakivora Cole)
Ground Two: Kazakhstan One (Dmitry Yakovlev – Sergey Bogato) – Hong Kong Two (Kayong Wan – King Wang Tse)
at 2 p.m
Ground 1: Iran 2 (Bahman Salemi – Alireza Aghajani) – Thailand 1 (Surin Jongklang – Banlu Nakprak Heng)
Ground two: China three (Jao Xin Li-Tao Shue) – Hong Kong one (Poi Lam Wang – Qifang Lam)
15 hours
Ground one: Qatar two (Essam Ahmad Mahmoud – Saif al-Din al-Majid) – Oman one (Houd al-Jalboubi – Mazin al-Hashmi)
Ground two: Indonesia two (Gilang Ramadan – Xia Danang Pribadi) – Kazakhstan three (Artem Petrasianets – Vladislav Postinikov)
at 4 p.m
Ground one: Iran four (Mojtabi Aro – Mehdi Mahfovi) – Kazakhstan two (Nordus Aldash – Kirill Gurin)
Ground Two: China One (Like Jiangha and Jia Xin Wu) – Thailand Two (Pithak Tipjan – Poravid Taowato)
at 17:00
Ground one: Iran one (Abdolhamed Mirzaali – Arash Vakili) – Japan two (Takomi Takahashi – Shiro Furuta)
end of message/
You can edit this article

Suggest this article for the first page