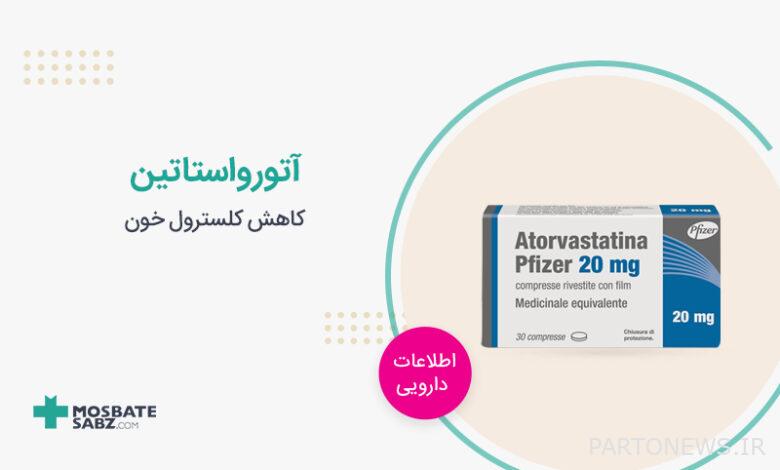 In recent decades, improving health and reducing the incidence of cardiovascular diseases has been considered as one of the basic goals of medical science, and its realization has attracted the attention of researchers and doctors. One of the important achievements in this field is the discovery and production of effective anti-cholesterol drugs to reduce blood cholesterol levels. One of these drugs is called atorvastatin, which is used as an anticholesterol agent. Atorvastatin is one of the members of the class of statins, which has been proposed as the most important drugs used to reduce blood cholesterol levels and prevent cardiovascular diseases.
What we read in this article

Pharmaceutical forms of atorvastatin
Artorvastatin is produced and sold in the form of tablets (Lipitor, generic) 10 mg, 20 mg, 40 mg and 80 mg, oral suspension (Atorvaliq) 20 mg / 5 ml.
Uses of atorvastatin
Atorvastatin is used along with a good diet to help lower "bad" cholesterol and fats (such as LDL, triglycerides) and increase "good" cholesterol (HDL) in the blood. This drug belongs to a group of drugs called "statins" that work by reducing the amount of cholesterol made by the liver. Reducing "bad" cholesterol and triglycerides and increasing "good" cholesterol reduces the risk of heart disease and helps prevent strokes and heart attacks. Changes that may help this drug work better include exercising, losing weight if you are overweight, and quitting smoking. Consult your doctor for more details.
Pharmacological effects and mechanism of action of atorvastatin
HMG-CoA reductase inhibitor; By competitively inhibiting HMG-CoA reductase, it inhibits the rate-limiting step in cholesterol biosynthesis. Bioavailability is 14% (main drug) starting from 3 to 5 days in a period of 48 to 72 hours. Metabolism through the liver enzyme P450 CYP3A4, includes metabolites of ortho- and para-hydroxylated derivatives and beta-oxidation product (inactive). Excretion of this drug is mainly through bile and urine (2%).
Dosage of atorvastatin
Before starting to take atorvastatin, read the drug information on the drug package. Take this medication orally with or without food as directed by your doctor, usually once a day. Dosage is based on your medical condition, response to treatment, age, and other medications you are taking. Do not eat grapefruit or drink grapefruit juice while using this medicine unless your doctor or pharmacist says it is safe to do so. Grapefruit can increase the possibility of side effects of this drug. Consult your doctor or pharmacist for more details.
Time to take atorvastatin tablets
If you are also using other medications to lower your cholesterol (bile acid binding resins such as cholestyramine or colestipol), take atorvastatin at least 1 hour before or at least 4 hours after taking these medications. These drugs can react with atorvastatin and prevent its complete absorption. Take this medicine regularly to get the most benefit from it. Remember to take it at the same time each day. Continue taking this medicine even if you feel well. Most people with high cholesterol or triglycerides do not feel sick. It is very important to follow your doctor's advice on diet and exercise.
How to take atorvastatin in adults and children
For hyperlipidemia in adults, an initial dose of 10-20 mg per day is recommended. Patients requiring LDL-C reduction of more than 45% may also be started at 40 mg/day.
For the prevention of cardiovascular diseases, the initial dose is 10-20 mg PO per day, which may be started at 40 mg per day for patients who need to reduce LDL-C by more than 45%.
Renal insufficiency does not affect the plasma concentration of atorvastatin, so there is no dose adjustment. Renal failure is a risk factor for myopathy and rhabdomyolysis, and all patients with renal failure should be monitored for the development of myopathy.
In patients with chronic alcoholic liver disease, the plasma concentration increases significantly. Also, this drug is contraindicated in acute liver failure or uncompensated cirrhosis.
Heterozygous familial hypercholesterolemia in children is recommended as a dietary supplement to lower LDL-C in patients over 10 years of age with heterozygous familial hypercholesterolemia (HeFH). The safety and effectiveness of this drug have not been proven in children under 10 years of age, but for those over 10 years of age, titrate 10 mg per day at 4-week intervals.
Precautions
Before taking atorvastatin, if you are allergic to it or other ingredients in the medicine, avoid using it. This drug may contain inactive ingredients that can cause allergic reactions or other problems. People with medical records or diseases such as liver disease, kidney disease, alcohol consumption, cardiovascular problems, etc. should consult a doctor before using the drug. Daily alcohol consumption may increase the risk of liver problems, especially when combined with atorvastatin. Also, elderly people may be more sensitive to the side effects of this drug, especially muscle problems.
Non-serious and reversible cognitive complications may occur in some patients.
Hypersensitivity reactions, including anaphylaxis, angioneurotic edema, erythema multiforme, Stevens-Johnson syndrome, and toxic epidermal necrolysis have been reported.
Increases in HbA1c and fasting serum glucose levels have been reported with treatment. Optimize lifestyle, including regular exercise, maintaining a healthy body weight, and making healthy food choices.
Renal failure is a risk factor for myopathy and rhabdomyolysis. Monitor all patients with renal failure for the development of myopathy. Renal failure does not affect the plasma concentration of this drug. Therefore, there is no dose adjustment in patients with renal failure.
In patients with chronic alcoholic liver disease, the plasma concentration of this drug increases significantly. Cmax and AUC are each 4-fold higher in patients with Childs-Pugh A disease. Cmax and AUC were approximately 16-fold and 11-fold increased in patients with Childs-Pugh B disease. This drug is contraindicated in patients with acute liver failure or decompensated cirrhosis.
Atorvastatin contraindications
Hypersensitivity to atorvastatin
Acute liver failure or decompensated cirrhosis
Atorvastatin side effects
Remember that this medication has been prescribed because your doctor has determined that the benefits to you are greater than the risk of side effects. Most people who use this drug do not experience serious side effects. A very small number of people taking atorvastatin may have mild memory problems or confusion. Also, rarely, statins may cause or worsen diabetes. If complications such as pain, sensitivity and muscle weakness (especially with fever or unusual fatigue), symptoms of kidney problems (such as changes in the amount of urine) and… If it occurs in the patient, stop taking the medicine and consult a doctor.
diarrhea
Nasopharyngitis
Arthralgia
insomnia
UTI
nausea
Indigestion
Increased transaminases
muscle spasm
Musculoskeletal pain
myalgia
Body pain
sore throat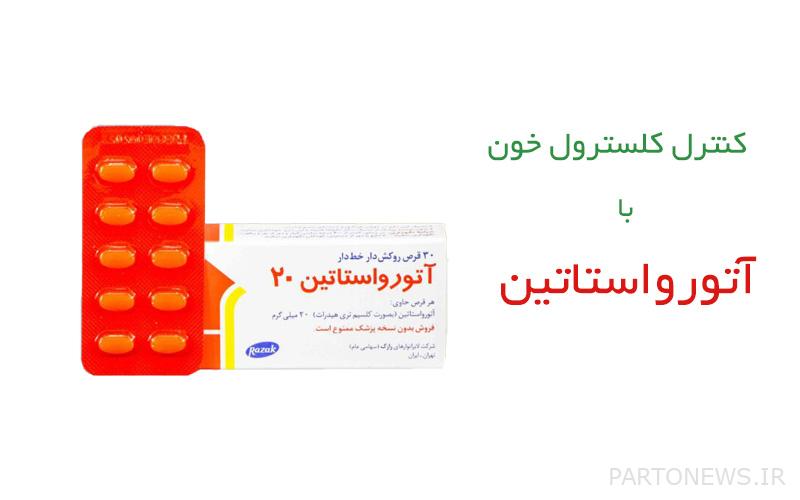 Drug interactions of atorvastatin
Category X interactions (avoid): combined hepatitis C antiviral products, canivaptan, cyclosporine (systemic), fusidic acid (systemic), gemfibrozil, glucaprovir and pibrentasvir, idelalisib, posaconazole, red yeast rice, tipranavir
Reduction of drug effects by atorvastatin: dabigatran etexilate, lanthanum
Reduction of the effects of atorvastatin by drugs: fosphenytoin, ivozidanib, mitotane, phenytoin, rifamycin derivatives, sarilumab, ciltuximab, tea grass, tocilizome, bexarotene (systemic), CYP3A4 inducers (moderate and strong), dabrafenib, deferasirox, efavirenz, enzalutamide, ardafatinib.
Increased effects of drugs by atorvastatin: digoxin, diltiazem, ketoconazole (systemic), lomitapide, midazolam, repaglinide, spironolactone, talazoparib, trabectedin, verapamil, aliskiren, cimetidine, daptomycin
Increasing the effects of atorvastatin by drugs: fosoperpitant, fosnotepitant, fusidic acid (systemic), gemfibrozil, glcaprovir and pibrentasvir, grapefruit juice, grazoprovir, idalalisib, istradifilin, itraconazole, ketoconazole (systemic), larotrectinib, ledipasavir, letermovir, lomitapide, mifepristone, Notpitant, niacin, niacin amide, acipimox, amiodarone, combined hepatitis antivirals, eprepitant, asunaprevir, azithromycin (systemic), bezafibrate, ciprofibrate, clarithromycin, clofazimine, cobicistat, colchicine, canivaptan, cyclosporine (systemic), CYP3A4 inhibitors (moderate and strong), cyproterone, daclatasvir, danazol
Interaction with food: consumption of grapefruit juice may decrease the serum concentration of atorvastatin. For this reason, avoid consuming a large amount of grapefruit juice with atorvastatin at the same time.
Taking atorvastatin tablets during pregnancy and breastfeeding
Because HMG-CoA reductase inhibitors reduce cholesterol synthesis and possibly the synthesis of other cholesterol-derived biologically active substances, fetal harm may occur when administered to pregnant women. Discontinue treatment as soon as pregnancy is diagnosed, as hyperlipidemia treatment is generally not necessary during pregnancy. Atherosclerosis is a chronic process, and discontinuation of lipid-lowering drugs during pregnancy should have little effect on the long-term outcome of primary hyperlipidemia treatment for most patients.
Animal studies of the drug atorvastatin
In animal reproduction studies, no adverse developmental effects were observed in pregnant rats or rabbits exposed orally to atorvastatin at doses up to 30 and 20 times the maximum recommended human dose (MRHD) based on 80 mg, respectively. on body surface (mg/m2); In rats given atorvastatin during pregnancy and lactation, growth retardation and postnatal delay were observed at doses greater than or equal to 6 times the MRHD.
Effects of atorvastatin on lactation and milk production
Information on the drug's effects on nursing infants or milk production is not available. In some tests, it has been shown that drugs of this category are transferred to human milk and atorvastatin is present in mouse milk. Studies in rats have shown that atorvastatin or its metabolites are present in the milk of lactating rats. When a drug is present in animal milk, it is likely that the drug is present in human milk. This drug reduces the synthesis of cholesterol and possibly the synthesis of other biologically active substances derived from cholesterol, and in some limited cases harms the infant.
FDA MedWatch recommendations regarding the use of atorvastatin
On July 20, 2021, the FDA requested the removal of the contraindication for use of HMG-CoA reductase inhibitors in pregnant women.
Breastfeeding is not recommended while taking statins, as the drug may pass through breast milk and pose a risk to nursing infants.
For lower-risk patients, temporarily withhold statin therapy until breast-feeding is complete.
Patients who are at risk of heart attack or stroke and need statins after delivery. Also, they should not be breastfed and should use alternatives such as powdered milk for babies.
Atorvastatin storage conditions
Atorvastatin should be stored at room temperature and away from light and moisture. Also, keep all chemical and herbal medicines out of the reach of animals and children.
The last words of atorvastatin tablets
Atorvastatin, as we said in this article from Positive Green Pharmacy magazine, is very effective as an important tool in the prevention and management of cardiovascular diseases. Scientific evidence shows that taking this medicine reduces the risk of these diseases. It is also recommended that the use of this drug be done under the supervision of a doctor, because it has many side effects. If you take this medicine without a prescription, you will suffer from side effects such as diarrhea, nasopharyngitis, arthralgia, insomnia, urinary infection, nausea, indigestion, increase in transaminases, etc.
Site source: Medscape
I was born in 1370. I started content production in 2013 and the more time passes, the more I fall in love with my job.