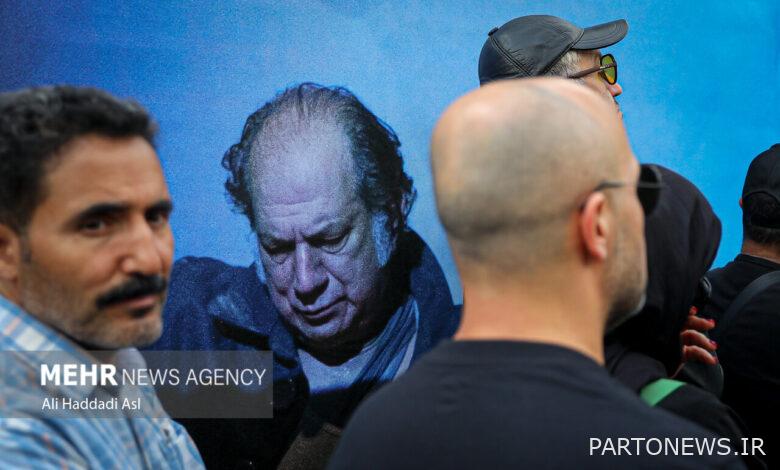 According to Mehr reporter, today Thursday 20 Mehr, Vahdat Hall and Shahriar Street have a different mood. Today, this cultural and artistic space is sad and its sadness has been shown in the faces of artists and people who have come to this space.
Today, Mehr 20, 1402, the figures who have appeared in Vahdat Hall did not come to this place to watch a work of art, but today they are watching the last appearance of a figure; A face that will never be forgotten.
Many of those present in Vahdat Hall, Shahryar Street and in general, Pehneh Rodaki, have watched the performances of Atila Pesiani over and over again, but this time they are going to see Attila Pesiani's last appearance because Attila Pesiani will no longer go to Vahdat Hall, Shahr Theater, Iranshahr Theater, Hall Molvi will not step into any theater or movie location.
Everyone here is sad and heartbroken, because saying goodbye to Attila Pesiani is not an easy task.
Here, no one believes that Attila Pesiani will no longer appear on the stage of the theater, he will no longer be in front of the camera of movies and series.
Here, everyone is in shock, even though they heard the news of the farewell on the 14th of Mehr, this can be seen on the faces of each and every person, from family and friends to artists and audiences and different people.
Everyone has come, Attila Pesiani is also there, but he is silent and this silence is unbearable, he sheds tears.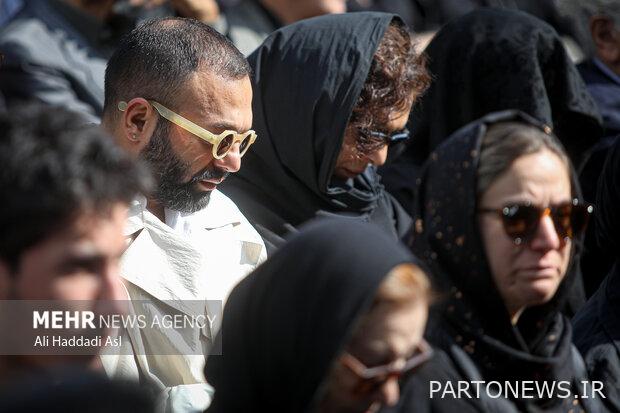 What a difficult day, today, Thursday 20 Mehr, and what a heavy atmosphere it is here, Vahdat Hall, Paneh Rodaki.
How difficult it is to say goodbye because saying goodbye to Attila Pesiani is not an easy task, but what can be done?
The music of "Diabolic Romeo and Juliet" composed by Bammad Afshar, which was performed by Attila Pesiani at the Iranshahr Theater, will be played this time to bid farewell to Attila.
By reciting a few verses from Kalam Allah Majid, everyone gets ready for the bitter moments of the last meeting with their unforgettable artist and friend.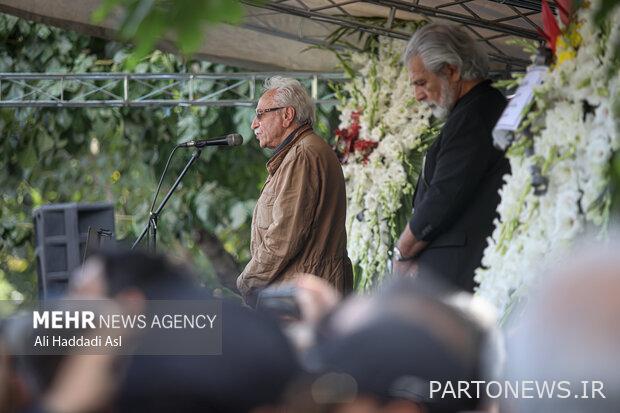 Manouchehr Shahsavari is in charge of the farewell ceremony for Atila Pesiani.
He read a letter and continued: we are mourning, we are mourning our dear Attila Pesiani; The one who brought nothing but love and kindness with him and lived artistically and now goes to his eternal home in peace.
Iraj Rad, the head of the board of directors of the theater, also appeared on the stage while he was affected and said: We gathered here to send off our dear one and to be grateful for his cultural services. Attila was a child of the theater and was born in the theater. Attila was always present with his mother, Jamila Sheikhi, both on stage and behind the stage, and he got to know the essence of theater. He got a knowledge of theater that few people have got to this knowledge of theater performances and theater artists.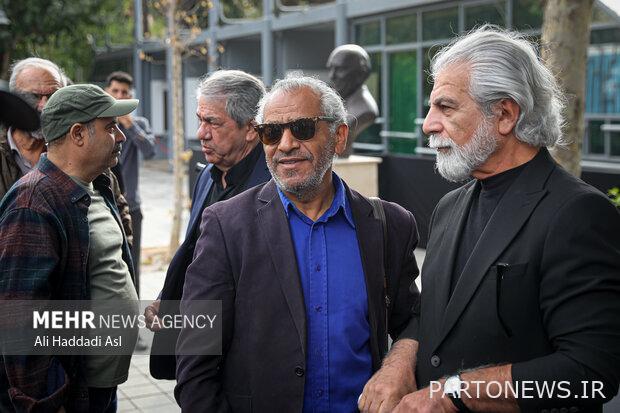 He recalled: The effects of the workshop of acting and performing foreign experimental theaters guided him towards experimental theater and he worked hard in this field. Attila did many impressive things by establishing "Bazi" group.
Rod emphasized the influential presence of Attila Pesiani in cinema and television and said: Attila worked hard in his short life of 66 years. He was a member of the founding board of the theater. He was active in the cinema house and was on the board of directors of the Iran Artists House, and he was always active in the affairs of the trade union and supported the theater youth by participating in the Iranshahr Theater Council.
It was at this moment that the body of Atila Pesiani was placed in its place in front of the Unity Hall amidst the tears of those present.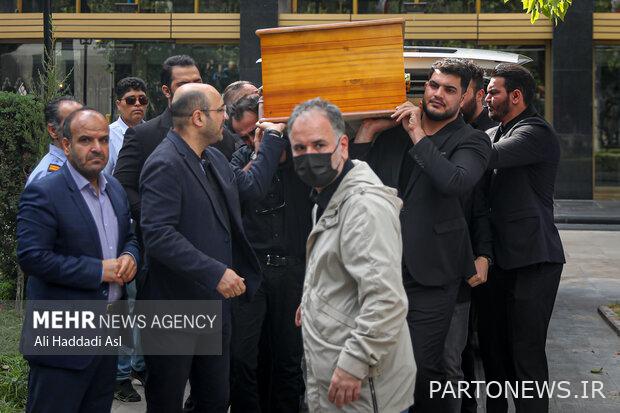 Then Shahsawari read the statement of Cinema House for Attila Pesiani while squeezing his throat.
In a part of this statement, it was stated: "As long as cinema is alive, Attila Pesiani is alive and has always been and will be a member of Cinema House, and his name will not be removed from Cinema House membership."
Pejman Bazghi, the head of the board of directors of Khana Cinema Actors Association, also came on stage and said: We came to say goodbye to an artist who is carried on our hands and shoulders, not on our hearts.
He said about the characteristics of Attila and reminded: death is a contemptible word for someone who lived and lived with love. His departure is sad, but it is not the end of our memories.
Reza Kianyan was another artist present at the ceremony who went on stage impressed. He said in a short speech: If it was Attila himself, he would have said to be good so that you can work. We came to work. "Remember the flight/ The bird is going away". Yes, Attila is gone, but many artists influenced by Attila are now on the stage.
He emphasized: Attila exists because his legacy remains and there are many Attila among us. We have to work and I also say this to Setareh, Khosrow Pesiani and Fatemeh Naqvi that we have to work according to Attila.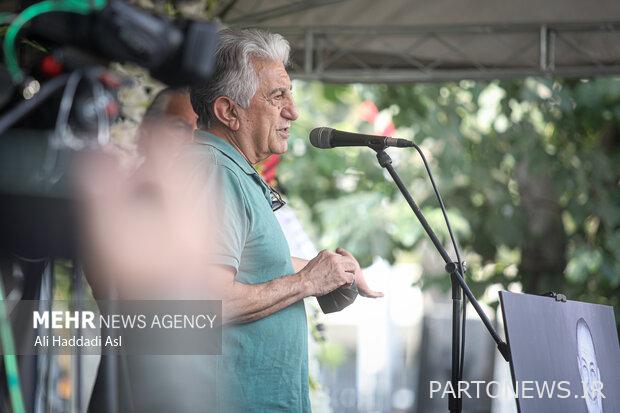 Later, Arvand Dashtarai also went on stage and said: Attila was not like anyone and he was like himself. Attila was genuine in all his behavioral and personal details. Attila Pesiani, the actor, was like a magic toolbox. Attila taught us acting by making mistakes so that we are not afraid of mistakes and have courage. Director Attila taught us to find our own language.
He emphasized: Attila was creating moment by moment and even in the worst situation he said he was fine. I had the opportunity to see him 2 weeks before he left. Even in his sick bed and semi-conscious state, he was unique. In that last meeting with him, I told him that you are going to come back and we will work on "The Gardener of Death" together, it was at that moment that his heart beat increased.
He reminded: "He formed the city's theater workshop with his efforts and supported the youth, and no one else gave what he gave to us youth."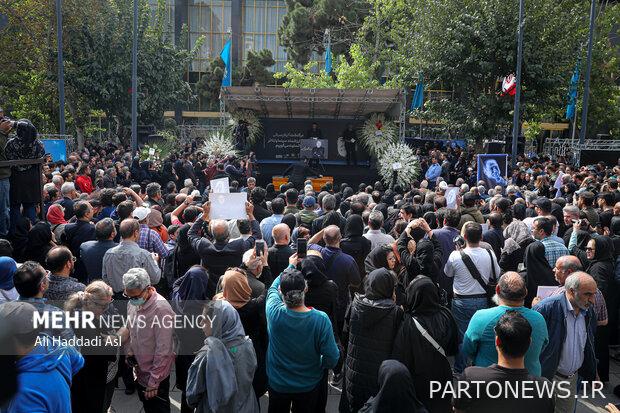 Dashtarai clarified: Attila used to say that I will not die because my thought is alive. I hope we continue the path and thought of Atila Pesiani.
Another young Rambad was the speaker at the farewell ceremony for Atila Pesiani. He played a recording of Attila Pesiani for the audience, in which he said to Rambad, "Why is your voice tired, don't tire yourself so much, the world lasts for 2 days and in the end we will leave you in a place."
He then read a heartfelt note to Attila and said: I choose not to be afraid of your qualities, which you had and we don't have, and we are constantly afraid of everything. You made us with your friends to be ourselves in front of you.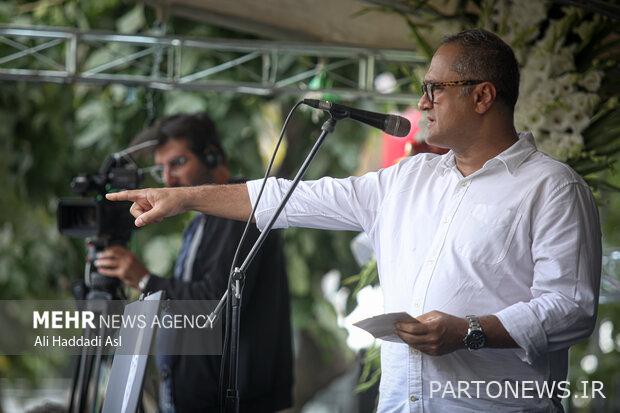 The young man emphasized while he was angry: As long as I am alive, I will keep a beautiful place in my heart with delicious food for you to come and dance there because life with you is beautiful. Like the poem of Ibrahim Monsafi who said "I danced / like a tree in the wind / there was no one there / except for me and my imagination and loneliness".
Then Sahar Dolatshahi went on stage as a representative of the Pesiani family and said: Attila came in the spring and left in the fall. What seasons did you learn from it? You were my family and I grew up with you and grew up like many theater and cinema children.
While shedding tears, he said: Game; What a beautiful name you gave to your group. You played with everything. Your biggest playground was the playground of friendship and we all gathered here for you. Today we are all in your game and here everyone plays alone and not with dialogue but with eyes and heart. How well do you play? We are waiting for you to raise the curtain and start the game, we promise to turn off our mobile phones. It is very empty.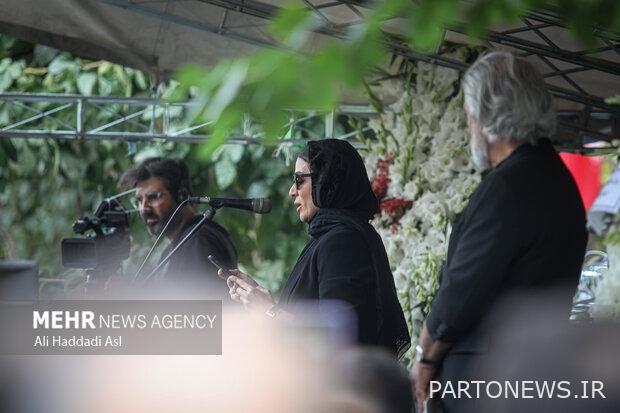 In the end, he said that according to the decision of the family, all the expenses of the ceremony intended for Attila Pesiani will be used for the treatment of several cancer patients.
The last speaker of the event was Mohammad Charamshir, who went on stage and said in a speech: "Iranian theater had no shortage of bitter days, but this is the bitterest day of Iranian theater."
He emphasized: I could not find any words other than helplessness to express my sadness. i am wounded Iranian theater owes a lot to Attila. Attila invited Iran's theater to diversity when it was one. These days, a flood of memories rushes into my mind and I really wish I could give a real image of one and preserve it with my teeth and claws, but I can't. Attila was great and because of this greatness you have come.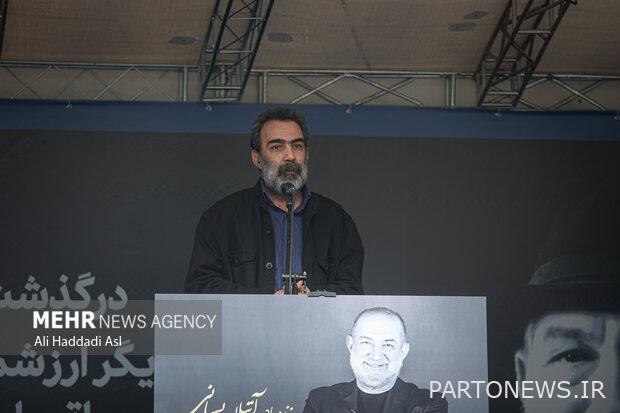 In the final part of the ceremony, in the presence of Hojjat-ul-Islam Yari, prayers were offered on the body of Atila Pesiani, and then the body of this artist was escorted to the eternal home with the sound of cymbals and trumpets and among the tears and sorrow of the attendees.
Bahman Farmanara, Akbar Zanjanpour, Hamid Jebeli, Fardin Khaltabari, Mohammad Rahmanian, Farhad Ayish, Bahram Shahmohammadlou, Mojtabi Mirtahmaseb, Hossein Pakdel, Atefeh Razavi, Navid Mohammadzadeh, Saber Abar, Homayun Asadian, Hossein Kayani, Qutbuddin Sadeghi, Asghar Hammet, Reza Behboodi. Shahreh Soltani, Reza Babak, Azita Hajian, Mahmoud Salari, Deputy Minister of Culture and Islamic Guidance, Kazem Nazari, Director General of Performing Arts, Mehdi Afzali, former CEO of Rudaki Cultural and Art Foundation, Qadir Ashna, former Director General of Performing Arts, Mehdi Shafiei, former Director General of Performing Arts, Shahram Karmi, theater director and former general director of performing arts, Hamid Nili, president of Iranshahr Theater, Anahita Hemmati. Ghazal Shakri, Mohsen Amiriosfi, Laleh Eskandari, Gohar Khairandish, Parinaz Izdbar, Tanaz Tabatabai, Amir Jadidi, Habib Dehghannasab, Habib Esmaili, Setara Eskandari, Hoten Shakiba, Hamid Pourazri, Qasim Zare, Siros Kahurinejad, Hassan Fathi, Ahmad Masjidjamei, Elham Korda , Panthea Bahram, Reza Fayazi, Siros Hemti, Ismail Khalaj, Marzieh Broumand, Ismail Mehrabi, Tanaz Tabatabai, Christoph Rezaei, Manijeh Mahamadi, Jamshid Gorgin, Morteza Zarrabi, Ramin Siardashti, Shekarkhoda Gudarzi, Arash Dadgar, Nuruddin Heydarimaher, Abbas Ghafari, Seyedjavad Taheri, director of the Shahr Theater Complex, Kaveh Thargyan, Farshad Fazoni, Asghar Piran, Farhad Fazoni, Elham Shabani, Mehran Ranjbar, Maziar Lorestani, Buyuk Mirzaei, Dariush Farhang, Pouria Rahimisam, Korosh Narimani, Shahram Gilabadi, Maryam Motabhar, Mohsen Kiaei, Banipal Shumon. , Asghar Samsarzadeh, Shabnam Moghadami, Jahangir Kothari, Hoshang Golmakani, Hamidreza Naimi, Fershte Hosseini, etc. were among the artists and directors present at the farewell ceremony for Atila Pesiani.