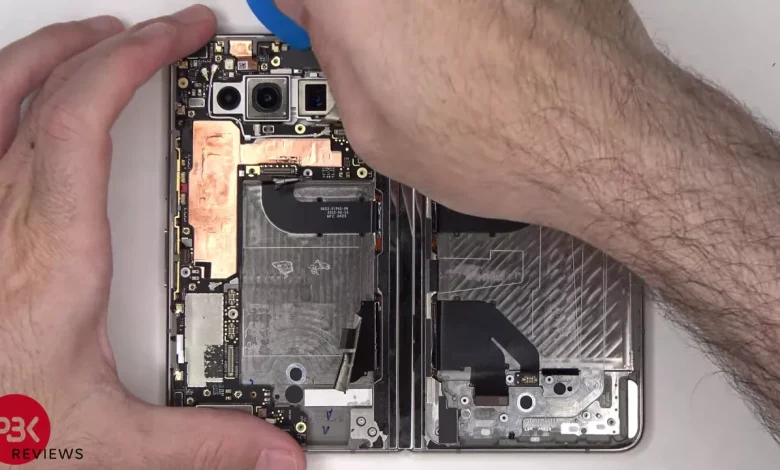 YouTube channel PBKreviews video autopsy Google's first foldable phone, that is Pixel Fold published which shows the internal parts of this device.
In this video dissection, PBKreviews for Disassembling the internal parts of the deviceFirst, he removes the SIM card tray and then by heating the back panel of the device and loosening its adhesives, he removes the back panel. After that, the device's 5.8-inch external display becomes available.
Autopsy Pixel Fold
Other internal parts that are shown in this video include the vibration motor, speakers, front camera and two batteries of the device. Google has not provided any pull tab for the battery, so that the process of removing it is a bit more difficult. Another noteworthy point mentioned in this video is the copper cooling plate around the battery of the device, which is part of the main board.
Finally, PBKreviews to Pixelfold repairability score 6.5 out of 10 Gives.
Google's foldable phone was recently subjected to a stress test by YouTube channel JerryRigEverything, where the phone completely fell apart during the bend test.
Pixel Fold was introduced by Google in May this year. The device has a 5.8-inch external display and a wide 7.6-inch internal display. Google has used the same Tensor 2 processor found in the Pixel 7 and 6 Pro along with 12 GB of RAM in its foldable phone. Google's $1,799 phone has been officially on the market for a few weeks, and in this short time, several reports of its screen failure have been published.
Now Google is preparing to introduce the Pixel 8 series phones, which are said to have a bigger battery and faster charging speed than the previous generation.