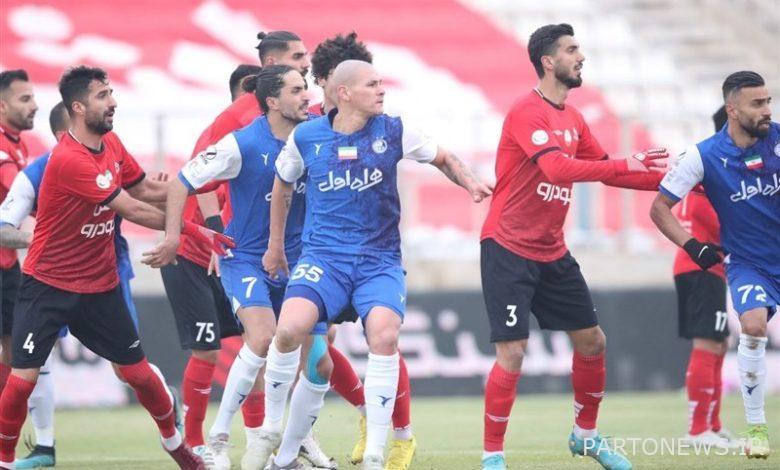 According to Tasnim news agency, Esteghlal football team faced Tractor in the last game of the 15th week of Premier League one day late from 14:00 today (Friday) at Shahid Sardar Qassem Soleimani Stadium and lost with a score of 2-0. Mohammad Ghanbari (36) and (52) scored Tractor's goals.
With this defeat, Ricardo Sapinto's students remained in the fourth place with 27 points, and Paco Khams' students also climbed to the sixth place with 22 points.
Tractor, which had not managed to defeat Esteghlal in the last few seasons, managed to win against the blue-clad after almost 1,300 days. Esteghlal, which did not have Ricardo Sapinto due to suspension, had one victory and two draws in the last three matches, and today's loss gave a new trend to its failures. Sapinto's students will face Tractor again next Thursday in the Round of 16 of the FA Cup.
Composition tractor: Mohammad Reza Akhbari, Hadi Mohammadi, Seyed Mohammad Hosseini (84 Arash Qadri), Mohammad Aghajanpour, Pouria Aryakia (84 – Abolfazl Razakpour), Safa Hadi, Gustavo (88 – Behzad Salami), Ricardo Alvez, Mohammad Qanbari, Mohammad Reza Abbasi (76 – Kaveh Rezaei) and Reza Asadi
Composition Esteghlal: Seyed Hossein Hosseini, Saleh Hardani (58 – Reza Mirzaei), Rafael Silva, Siavash Yazdani, Jafar Salmani, Rozbe Cheshmi (72 – Saeed Mehri), Zubair Nik Nafs (46 – Peyman Babaei), Mehdi Mehdipour, Kevin Yamga, Mohammad Mohebi ( 26- Arslan Motahari) and Mehdi Qaidi (72 – Arman Ramezani)
referee: Vahid Kazemi
first half
Minute 3: Rouzbeh Cheshmi's mistake caused Mohammad Ghanbari to send the ball to Esteghlal's penalty area, where Rafael da Silva cleared the ball away from the danger zone.
Minute 5: Mohammad Mohebi fell on the ground after passing a player inside the tractor penalty area by another player, but the referee did not believe in a penalty.
Minute 6: Mohebi's header from the corner point went dangerously over the top of Tractor's goal.
Minute 7: Reza Asadi's shot was blocked by Da Silva.
Minute 12: Esadi was the first player to receive a yellow card with a foul on Zubair Niknafs.
Minutes 23 and 26: Mohammad Mohebi left the field due to injury and Arslan Motahari entered the field three minutes later in his place.
Minute 36: Tractor scored a goal by Mohammad Qanbari and first the assistant referee raised his flag as an offside sign and Vahid Kazemi also declared the goal rejected, but moments later the referee accepted the goal!
45+1 minutes: On passing the ball to Esteghlal's penalty area, Tractor player hit it, which Seyed Hossein Hosseini deflected.
second half
50 minutes: Kevin Yamaga was in a good position but his shot was deflected by the tractor defender for a corner.
Minute 52: Tractors had a chance in a counterattack when Mohammad Ghanbari scored the second goal for Tractors and himself in the penalty area.
Minute 54: Ricardo Alou got a yellow card from the referee for the mistake he made.
62nd minute: In a counterattack, Mehdi Qaidi went to Tractor's penalty area and tried to shoot, which was caught by Mohammadreza Akhbari.
Minute 65: Kevin Yamaga is shown a yellow card for a foul on Poriya Aryakia.
69th minute: Mehdi Mehdipour's free kick was sent to the corner by Mohammad Reza Akhbari.
70 minutes: Rouzbe Cheshmi received 4 yellow cards this season and missed his team's next match in the league.
81st minute: A shot from behind the penalty area sent Peyman Babaei to the corner.
86th minute: Gustavo from Traktor was penalized with a yellow card for a foul on Yamaha.