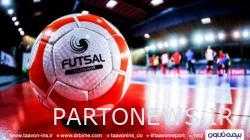 According to the financial monetary news, quoting the public relations of Cooperative Insurance, the first meeting of the representatives of the physical education of the insurance industry with the presence of Hadi Abdullahi, Deputy Director of Management Development and Central Insurance Resources of the Islamic Republic of Iran. Iran was held to think about the three axes of the need to develop sports and vitality in the industry, the formation of the Sports Industry Sports Development Council and coordination on how to hold sports competitions in the insurance industry.
In this meeting, the representatives of the companies' physical training agreed to hold monthly meetings of the Sports Industry Sports Development Council, and it was decided that the Fajr special insurance industry futsal competitions in the men's section would be hosted by the Cooperative Insurance Company.
It is worth mentioning that the Cooperative Insurance Company won the championship among the 22 participating teams in the first round of the competition, which was held under the name of Shahid Soleimani.
Also, the company's attention to providing services to athletes had caused Adham Kurd Zaboli, Director General of Sports and Youth of Sistan and Baluchestan Province and Samad Mohammadparast, Chairman of the Board of Bodybuilding and Sistan and Baluchestan Province to appreciate the company and call for expanding services. Cooperative insurance.