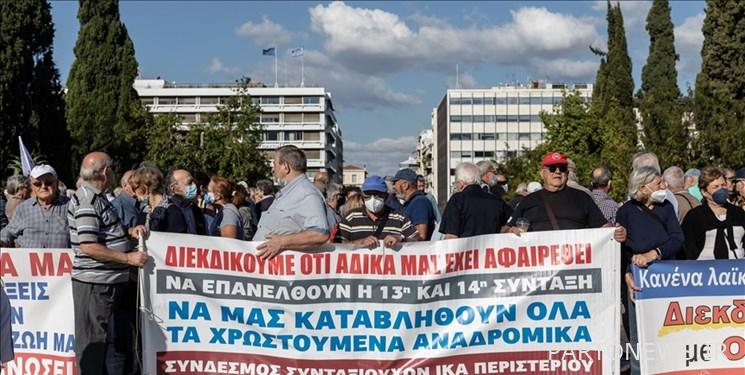 According to Fars International News Agency, hundreds of Greek pensioners marched on Tuesday in Athens, the capital of the country, and demanded an increase in pensions to deal with the rising cost of living.
According to the news agencyAnatoliaThe protest was organized by several associations representing retirees, and marchers chanted slogans for more pay and free health care.
According to this report, the Greek protesters demanded that pensions be increased by at least 80% and that additional payments be made. Greek protesters demanded more health measures for themselves by the government. Workers, employees, and students in Greece have demonstrated many times to protest the high prices and increase in the cost of living.
Meanwhile, public transport workers in the port city of "Thessalonica" in northern Greece are going to stop working on Thursday. A union representing the workers has announced that this five-hour protest is aimed at drawing attention to the lack of investment in the city's public transportation system.
Not long ago, following the deadliest Greek rail accident in modern history, thousands of students and railway workers protested in Athens, and clashes broke out between the police and a group of protesters.
On Tuesday (March 9th), at least 57 people were killed and dozens injured after a passenger train with more than 350 passengers collided with a freight train on the same route in the center of Greece. The train, which was traveling from Athens to the northern city of Thessaloniki, was full of students returning from the weekend. The incident sparked public outrage in Greece.
End of message.
You can edit this article

Suggest this article for the first page