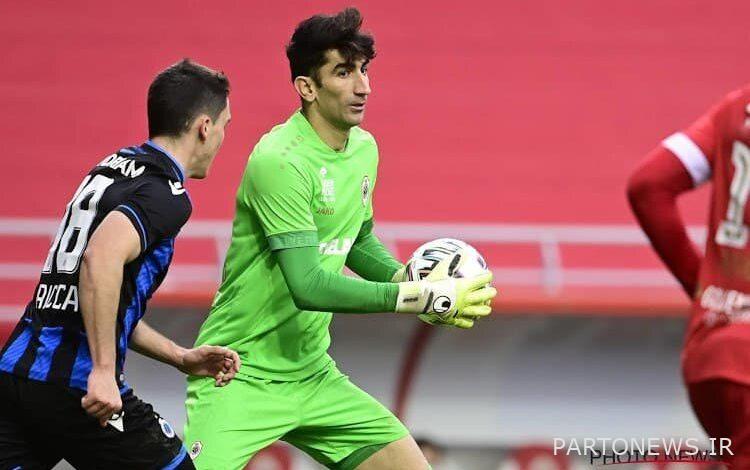 According to the Mehr reporter, Alireza Biranvand's separation from Persepolis did not last more than two seasons. Biranvand, who joined the Antwerp team in the summer of 1399, after going through an unsuccessful period in this team, preferred to go to the Portuguese team Beauvais on loan to have a new experience.
Biranvand, who went to the Portuguese league with the aim of playing continuously, also became a bench goalkeeper for Boavista and played only 9 games for the team in one season, so that his dreams of shining in European football would be very short-lived.
At the end of this season in Portugal, the Boavista club refused to activate the € 1 million clause in Biranvand's contract so that the goalkeeper of the Iranian national team could return to Antwerp; At the same time, he once again saw Persepolis as a serious customer.
Biranvand, who had a contract with Antwerp for another season, announced that he would prefer to go to the team he plays for in the year of the World Cup. In the meantime; What better team than Persepolis, which is both a customer of Biranvand and can play in it to regain its place in the national team (which it gave to other national team goalkeepers after its presence in Europe).
Of course, it was said that the Antwerp club first requested 1 million and then 700 thousand Euros as a consent fee for the transfer of Biranvand to Persepolis. Shortly afterwards, it was announced that Antwerp had agreed to give Biranvand to Persepolis for less than this amount.
Meanwhile, a Belgian media reported that Biranvand's transfer from Antwerp would not cost Persepolis any money. However, Antwerp will not pay anything to the goalkeeper from the remaining amount of Biranvand's contract, which is apparently a significant amount.
The news site nieuwsblad reported the news and wrote: "You may have forgotten him before, but Alireza Biranvand (29) will normally return to Antwerp this summer. The Iranian goalkeeper was hired by Boavista, who did not use the option of buying him for one million euros. However, there is no prospect of the goalkeeper returning to Antwerp. "He is about to sign a contract with his former club Persepolis."
"Persepolis does not have to pay for Biranvand's transfer, but the fact that his high wages (and the significant amount of his contract signing) will be lost is positive for Antwerp," the report said.
In this regard, the Belgian journalist "David van den Broek" told the Mehr reporter that the time for signing Alireza Biranvand's contract with Persepolis is near and it is even possible that this contract will be signed today, Wednesday.