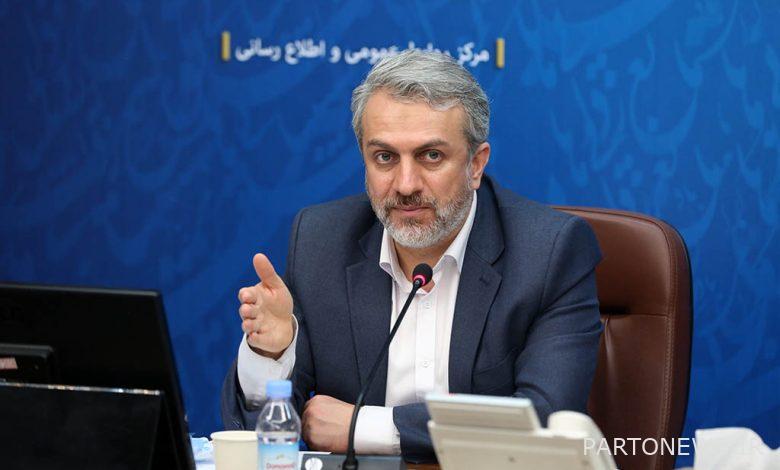 The Minister of Industry, Mines and Trade, stating that the banks are promoting the growth of liquidity with overdrafts and facilities, said: "We can collect surplus and stray liquidity. In this regard, 150 projects with a capital of five thousand billion Tomans have been defined to guide Liquidity will help reduce inflation.
According to Asr Aqsad, Seyed Reza Fatemi Amin stated in a symposium with members of the Industries and Mines Committee of the Majles: Will include products.
"The structure of the market is one of the factors associated with the occurrence and intensification of inflation, we have a plan for market management that will reduce the effects of inflation related to the structure of the market," he said.
Disconnect the dollar from domestic goods
Minister Samat also clarified about the foreign exchange market and the impact of foreign prices on domestic goods: we should try to cut the relationship between the dollar and domestic market prices and correct this relationship with gradual tariffs and not allow foreign exchange rents to be transferred inside.
Fatemi Amin added: "We are seriously focusing on exports and we want to export about five billion dollars more in the second half of the year than the same period last year."
Implementation of foreign exchange funds plan
"People will invest their dollars in these funds, and we will use these resources to develop our country's foreign trade," he said.
Minister Samat also said about the reform of the market regulation structure: "Previous methods such as inspection and supervision have cross-sectional effects. Follow and implement the new market management model.
Fatemi Amin mentioned this management in the two areas of basic and consumer goods and added: "New mechanisms have been designed and we will move from daily, cross-sectional and case-by-case decisions to a systemic state, and this model will cover most products by the end of this year."
Regarding the regulation of the service sector market, he said: "The service sector has its own complexities and 50% inflation always occurs in this field; We also have a one-year plan to regulate the service market, which will be finalized and implemented by September next year.
Construction of 11,000 MW power plant capacity
In another part of his speech, Minister Samat stated that more than 40% of the country's electricity is consumed in industry, mining and trade, stating: We have the economic headquarters of the government and the ministries of oil and energy, and we have started the construction of 11,000 megawatts of power plant capacity to generate electricity in agreement with the Ministry of Energy.
Financing of production chains
Regarding working capital of production units, Fatemi Amin said: "We will operate the financing of production chains for the next two months."
Regarding the stock exchange and the strategies for success in the commodity exchange, he said: "We must place the exchange units correctly in the commodity exchange and be able to implement the exchange rules so that the rules are integrated and the necessary infrastructure is provided to implement the rules."
In the end, the Minister of Industry, Mines and Trade said: "In the new model of market management, there are 25 rules that use the infrastructure of the commodity exchange."