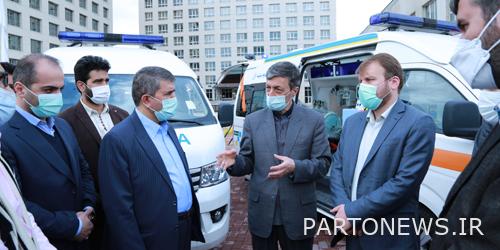 In the presence of the President of the Foundation for the Underprivileged and the CEO of Sina Bank:
According to the monetary financial news, quoting the public relations of Sina Bank, Seyed Parviz Fattah, the head of the Foundation for the Oppressed of the Revolution, said at the ceremony that the Foundation for the Oppressed, especially since the beginning of the Corona epidemic, has entered the service field with all facilities. The situation of the Corona crisis was addressed by supporting the vulnerable, especially in deprived areas through the provision of medical equipment and hospital assistance, and the donation of these ambulances is done in the same direction.
He added: "The Foundation for the Oppressed is one of the first institutions to support the deprived classes, and according to the Supreme Leader's emphasis on democracy and solving the problems of the people, we must be on the field and sacrifice and make every effort to serve these loved ones." And do not hesitate to make an effort.
Dr. Imani, CEO of Sina Bank, also said at the ceremony: "Sina Bank has always paid attention to the issue of social responsibilities in the process of its activities and has taken significant measures in this regard, and 24 ambulances have been donated in this regard."
He stated: The cost of financing the purchase of these ambulances has been done from the place of cash assistance and granting employees leave, not printing the calendar and due date and saving the costs.
He pointed out: the ambulances were purchased as vans and then the equipment was completed, which cost a total of 20 billion rials per device. We hope that by donating these ambulances, we have been able to take an important step to help equip facilities and improve health in deprived and underprivileged areas of our beloved country.
Among other major activities of Sina Bank in the field of social responsibilities, he allocated 50 billion Rials in cash assistance to the clients of Imam Khomeini Relief Committee in 7 provinces of the country, donated more than 1000 tablets to needy students in deprived areas. 3 chapters of schools in Qala-e-Ganj and Remshak areas of Kerman, allocation of 20 billion Rials to the water supply project of Bushehr villages and payment of more than 11 thousand billion Rials of Gharz-ul-Hasna loan to provide essential needs, employment and housing for the deprived in 1400.
It is worth mentioning that in this ceremony, which was held on Friday, March 4, Sina Bank's ambulances donated to rural health centers in deprived areas in Ahvaz, Sabzevar (Ramyan), Neishabour (Chekneh and Firoozeh), Nahavand, Ganj Castle (Remshak), Rey (Saleh) Abad), Qom (campus) and the provinces of Ilam, Bushehr, Khuzestan, Gilan, Zanjan, Sistan and Baluchestan, Lorestan, East Azerbaijan, West Azerbaijan, Fars, Chaharmahal and Bakhtiari, Markazi, Kermanshah and Kohgiluyeh and Boyer-Ahmad, to the present representatives of these regions Was awarded at the ceremony.