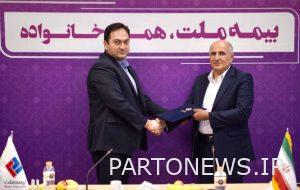 According to the news of Puli-Fali, the induction ceremony of the head of life and accident insurance management was held in the presence of Alireza Yazdandoost, CEO, Daud Ghasempour, Chairman of the Board of Directors, Mohammad Taghi Chiraghi, Vice Chairman of the Board of Directors, and some of the company's deputies and managers.
Yazdandoost said in this ceremony: We expect the new superintendent to use the existing capacities and facilities, relying on professional and strategic principles, while observing the rules, guidelines and regulations of the Central Insurance in relation to planning and carrying out effective and fundamental measures for the quantitative and qualitative development of this field. and increasing the share of life and accident insurance in the overall portfolio of the company.
The CEO of Mellat Insurance stressed on studying and improving processes to remove obstacles and added: removing obstacles to sales development, satisfying customers, facilitating workflow, risk management, serious monitoring of timely collection of insurance premiums and preventing the accumulation of claims, optimal interaction with The company's branches and sales network, providing a suitable platform for the emergence of creativity and presenting attractive designs is one of the approaches that is expected to be carefully considered.
At the end of this ceremony, Mehdi Asadi Larijani was awarded the appointment as the new head of life and accident insurance.
Mehdi Esadi has 25 years of experience in the field of personal insurance in Iran Insurance Company, a member of the board of directors of Insurance Services Company in Iran and Day Insurance, the head of the central branch of Bimah Novin and the deputy manager of life and accident insurance in Sarmad Insurance.