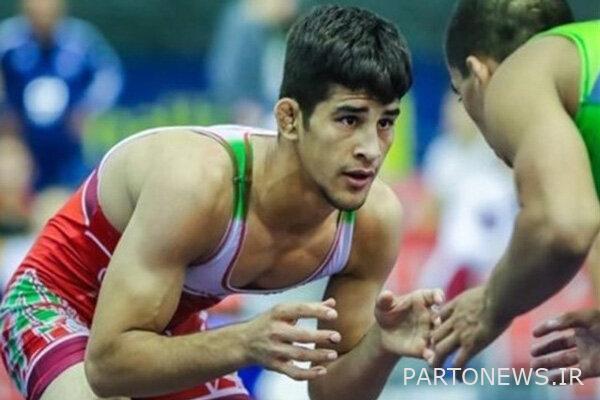 According to the Mehr news agency and quoting the public relations of the Wrestling Federation, the second five weights of the Asian Adult Freestyle Wrestling Championships are being held from 8 am today (Sunday) in Ulaanbaatar, Mongolia.
At the end of the morning (preliminary) competitions, Dariush Hazrat Gholizadeh in the weight of 61 kg, Younes Emami in the weight of 74 kg, Amir Hossein Firoozpour in the weight of 92 kg and Yadaleh Mohebbi in the weight of 125 kg reached the final and Mohsen Mostafavi in ​​the weight of 86 kg in the category match. There is a classification.
The results of our country's wrestlers are as follows:
In the 61 kg weight category, Dariush Hazrat Gholizadeh won the first round with a result of 9: 6 against this Sang Choi from South Korea. In the second round, he defeated the Asian champion from Bahrain, Ali Beg Ali Begov (Russian-born wrestler), 14-11, and advanced to the semi-finals. At this stage, he will face Akbar Korbanov from Kazakhstan.
In the 74 kg weight category, Younes Emami, after a break in the first round, defeated the silver medalist of the Asian Games from Japan, Daiichi Takatani, 7: 5, in the second round. In the next round and in the semi-finals, he defeated Biyambadorjord Jordan of Mongolia 10: 0 and advanced to the final. Emami fights for gold medal with world silver medalist and Asian champion Nurkja Kaipanov from Kazakhstan.
In the 86 kg weight category, Mohsen Mostafavi defeated Murad Orazgiliyev's government of Turkmenistan 10-0 in the first round. In the next round, he lost 6-0 to Deepak Pony, the world silver medalist from India, and due to the presence of this wrestler in the final match, he also qualified for the qualifying match. In this match, Mostafavi will face Guan Ok Kim from South Korea.
In the 92kg weight class, Amir Hossein Firuzpour defeated Asian silver and bronze medalist Adilet Davolbayev 11-0 in the first round at the Asian Games in Kazakhstan. In the next round and in the semi-finals, with a score of 10: 0, he defeated the Asian silver medalist Takuma Otsu from Japan and advanced to the final. Firoozpour will face Orgilukh Daguador from Mongolia in the final.
In the 125kg category, Yadala Mohebbi defeated Sardarbek Khulmatov of Uzbekistan 11-2 in the second round after a break in the first round and advanced to the semifinals. At this stage, with a result of 12: 2, he defeated Batmankha Anghtsushin from Mongolia and reached the final match. In the final match, Mohebbi will face Alishir Yergali from Kazakhstan.
The above weight classification and final competitions will be held from 14:30 today, Iranian time.