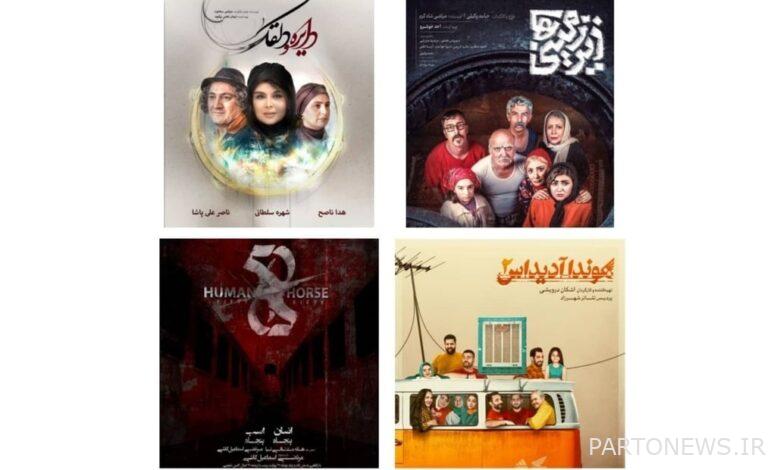 Charso Press: Shahrazad Theater Campus will host four shows "Man/Esb-Fifty/Fifty", "Circle and Clown", "Undergrounds" and "Honda Adidas 2" from mid-October.
In order to support young theater groups, this collection has provided a number of show boxes of this collection with new shows by young directors. "South Jordan" directed by Shayan Mostofi will be staged every night at 19:00 in Hall No. 3 from October 3rd. The show "Screenshot" directed by Amir Abbasi is another work of a young group that will be staged on July 28 at 21:30 in Hall No. 3.
show "Shaghamak"
The show "Shaghamak" directed by Salman Samani is another show that hosts the audience every night at 20:00.
According to the plans and in order to support shows with children and teenagers, the show "Nim Wajabi" directed by Alireza Dehghani, will be on stage every day at 18:00, and "Bel and the Proud Prince" will also host children's audiences at 17:00 in Hall No. 3.
Shows from the first generation directors of the country's theater will be staged in this series in Mehr 1402, the show "Theatrical Enterprise" written by Ali Nasiryan and directed by Hadi Marzban is one of these works that has been well received by the audience in the first week.
The show "Runaway Bride" directed by Javad Essafi has also been welcomed by the audience and fans of Iranian shows as it approaches its final week.
Shahreh Soltani comes to Shahrazad with "Daireh and Clown".
The play "Circle and Clown" written and directed by Morteza Sakhawat will be staged on May 16th in Hall No. 2 of Shahrazad Theater Campus.
Shahreh Soltani, Nasser Ali Pasha, Heda Naseh play roles in this show.
The summary of the story of this play is as follows: the story of the play is in the heart of acting in the guise of a clown with you, with him and maybe with yourself, with yourself in front of the mirror of imagination, to watch your presence in this infinite existence, which circle is the center He himself knows whether, or…
Other actors of this show are: Producer: Iman Gholami Nigche, Assistant Director: Mohsen Shafiei, Production Manager: Saeed Ardeshiri, Music: Hashem Sharifzadeh, Stage Secretary: Zainab Yagoubi, Mask Designer and Maker: Hamid Noorabadi, Public Relations: Erfan Babaei, Mina Zandi, Stage Manager : Arezoo Golshahi Stage assistant: Mohsen Alamnejad Photographer: Akhtar Tajik Set design: Peyman Katzzadeh Makeup designer: Mehtab Hosni Assistants: Production Hossein Mofid Iman Zafari Services: Amir Hossein Jafarpour
"Man/Horse-Fifty/Fifty" show
The play "Man/Esb-Fifty/Fifty" directed by Morteza Ismailkashi will be staged at Shahrazad Theater campus.
The play "Human/Esb-Fifty/Fifty" written jointly by Hale Mushtaqinia and Morteza Ismailkashi and directed by Ismailkashi, which was well received by the audience and ended its performance in the main hall of Molavi Hall on the 31st of Shahrivar, at the request of the audience, was again The stage goes.
Morteza Ismail Kashi previously had a successful appearance at the Shahrazad theater campus with the show "Sad Der Sada" starring Hoten Shakiba and Setera Pesiani.
The ticket sales for the show "Man/Horse-Fifty/Fifty" started on Wednesday, the 12th of Mehr on the Tival site, and this show will be staged again from the 23rd of Mehr to the 5th of November.
The summary of the show reads as follows:
"The doors of the museum building, which was a death camp many years ago, open to the male and female actors. These 2 are the only survivors of that altar who escaped from there. The spirits of the dead who were actors with anti-fascist activities are called and…
A comedy of a tragic situation
"Undergrounds" will be staged in Shahrazad Theater campus
The play "Underground" written by Morteza Shahkaram and directed by Hamed Vakili will be staged again at Shahrazad Theater campus after the successful performances in July.
"Undergrounds" is the title of Hamed Vakili's latest work as a director and actor, which is staged with a tragic and comedic approach at Shahrazad Theater campus.
"Undergrounds" produced by Ahad Khoshrou tells the story of a family of seven who are temporarily forced to live in a very small underground.
Siros Hemti, Marzieh Sadraei, Hanif Mozafari, Hanieh Karimi, Shiva Javamanard, Armita Lotfi, Hamed Vakili are actors in the "Underground" show.
Other factors that accompany this theatrical work include the producer: Ahad Khoshro, group supervisor: Mehdi Aghaei, executive director: Maitham Abbasi, assistant director: Shervin Nik Panjeh, planner: Azadeh Nazari, singer and composer: Mehrdad Behzad Ol. Light and sound: Shakiba Adineh, production manager: Peyman Saberizadeh, costume: Salmaz Zare, stage manager: Fereshte Niazi, poster designer: Mohammad Karblaizadeh, logotype: Mahmoud Arasteh, teaser production: Farhan Farizah, Amin Garhami, stage manager: Matin Satayshi, stage assistant: Sadra Sayah, make-up designer: Hanieh Karimi, make-up directors: Mohammad Reza Shirmohammadi, Maleeha Arsanjani, photographer: Saeed Saeedi, advertising manager: Fatemeh Abdurrahimi, media manager: Mitra Rezaei, public relations: Mohammad Nikbakht, procurement manager: Amir Ali Motamedi.
Comedy show "Honda Adidas 2" and life in a southern urban house
The comedy show "Honda Adidas 2" directed and produced by Ashkan Darvishi will be staged every night at 21:15 from October 9.
"Honda Adidas 2" by playing some of the phenomena of the two TV shows "Asr Jadid" and "Khandwane", tells a social comedy story full of everyday events of a house in the south of Tehran, Vahid Mousavi, the singer of Lor Tabar, who is a plumber in "Asr Jadid" " was present, Hana Sotohi appeared in the program "Khandwane", Hossein Shahrukhnia with the pseudonym Sheikh Hossein in the virtual space and appeared in "Khandwane", Esra Jalilian participating in "Asr Jadid", Ahmed Jafari active in street theater and present in "Asrjadid" program plays a role in this work. Bahare Rahnama and Mukhtar Saeghi are other actors of the show.
Other actors of "Honda Adidas 2" in the order of entering the stage are: Ahmad Jafari, Maryam Kazemi, Pouria Rafiei and Kazem Barzegar, teenage artist: Benita Eshraghi, singer: Arzoo Arzoomand, group of supporting actors: Hadida Kafilli, Masoumeh Kohzadi, Rihane Pahlavan. , Haniye Badrkhani, Faiza Jafari, Saba Hashemi, Zahra Zamaniyan, Tarnam Bahri, Nire Zarei.
The text of this show is written by Mehdi Gholam Heydari and Ashkan Darvishi is the director and producer of this work.