Balls and nets
Sport
Golmohammadi: The penalty was very clear / playing against Sepahan on neutral ground is indigestible for us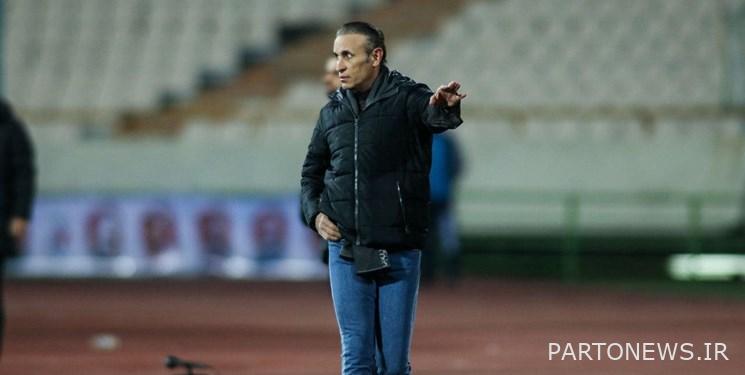 According to the sports reporter of Fars News Agency, Yahya Golmohammadi stated after the 2-0 victory against Zobahan Isfahan: "We had a good plan for this difficult game, we were not a bit cautious in circulating the ball, but Zobahan had a good defensive plan." Whenever we could, we created a situation and did not give a special situation to the opponent. It was important for us to get these three points according to the conditions of the table. I'm glad we won.
Golmohammadi continued: "In this one or two years, the players worked hard and we won Zobahan despite all the problems created." Something that had not happened in this one or two years. Zobahan is a worthy and respectable team.
The head coach of Persepolis said about the possible elimination from the Asian Champions League: "I said the day before that the structure of Iranian football has had major problems for years, and somewhere everyone should help to build the infrastructure." Our football facilities are less than the technical level of our national and club teams. The AFC has a lot of strictures and I hope the problem will be solved, and these problems were in previous years, but we were able to get permission to be in Asia.
He added: "We are very happy to get three points. We were able to get closer to the top of the table. Three points were critical." In the first half, we did not have a good turn of the ball, but we had a scoring opportunity. In the second half, we dominated the game and started the match well. It was a heavy game. A physical and engaging game. I thank my players who showed good will to get these three points. We dedicate this win to all the fans.
The head coach of Persepolis said about next week's game with Sepahan on neutral ground: "Both we and Sepahan have good stadiums, but holding this game in a neutral stadium was strange because of what happened, and this issue is indigestible for us." But this has happened and we have to play in a neutral city. Some events in our football are specific to Iran and our country's football, and we can not talk much about this issue.
Golmohammadi, in response to a Fars reporter's question that Tartar was protesting against the second goal and believed that a penalty error had not occurred, said: "I saw the scene again, it was a complete penalty and it was an error. The opponent's defender made a clear error and hit our attacker." . If he did not kick his foot, Al-Kathir would be in a good scoring position. This penalty was very clear and we can not talk about it.
Regarding the condition of the two Tajik players on the team, he said: "Their IDs have not been issued and their work has not been done yet." We recruited these two players to help us in the first half. But this has not happened yet. If we had known that they would not play until the second half of the season, we would not have wasted so much energy and time hiring foreign players and still not being able to use them.
The Persepolis coach said about when they can play: "It may be okay in the next two weeks, but we will miss one of them for a month due to injury and we will not be able to use it until the middle of the season."
End of message /
Suggest this for the front page
.