Balls and nets
Sport
Mansoorian: We do not know if he is the fourth referee or an observer? They just want to be seen / We were careful we scored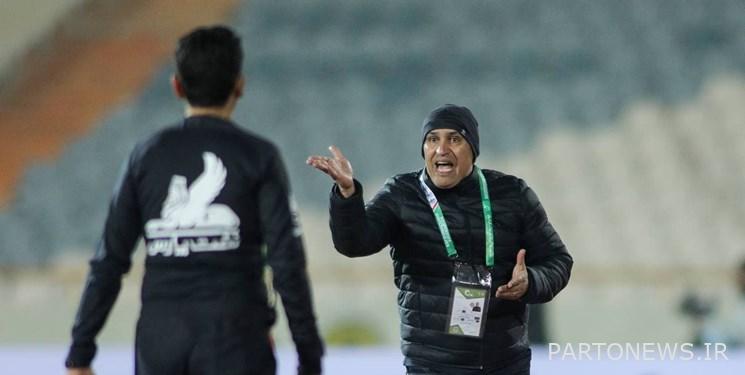 According to Fars News Agency from Khuzestan, Alireza Mansoorian in a press conference after the game against Foolad in the 11th week of the Premier League, said: I do not know who to congratulate, I congratulate those who have changed the shape of Foolad, have a stadium to criticize, but unfortunately we have a clause, comment and law We do not have oil aid. We have met with oil refineries several times, but there are laws from a few years ago that have been unwise. We are lying on the treasure but we can not help the team.
The head coach of Naft Abadan football team said: we have not had money for 11 weeks and it is not possible for a man not to take money home for 5-6 months. They are young and their contract starts from 70 to 2.5. Talib was also very loving and I knew he would give him at least 10 billion in independence. I knew the big teams wanted him. Our team has fallen through the wall of zeal and you do not see any traces of financial consequences in our team, but we have internal damage.
Mansoorian continued: We are used to dealing with financial problems. Our governor did everything he could to get the approval, but it has not been done yet. We do not want 400 billion, 40 billion is enough and right now we need 20 billion, which we do not have.
The head coach of the Abadan Naft Sanat football team, regarding the Khuzestan derby, noted: I did not have the experience of the Khuzestan derby and I am proud to have participated in the Khuzestan derby this year, where the football mine is. Both teams played with quality; Our group's thoughts are with Mr. Javad's group, and both teams played physical football. We knew a mistake might be the last mistake. We were in the game, they had a position outside the box, but we also had a position outside the box, we entered within 18 steps, if we were careful, we would have scored.
He added: "I told the children that the result of this game would be one to zero or zero-zero, which we hoped would be in our favor." Congratulations to Javad Nekounam and his team, he has formed a good team since he returned. It is a team that needs to be analyzed a lot. We tried to exclude some players of this team from the game with the analysis that we had from last week on the shot, corner, etc. I am satisfied with the children, we promised to be a family. We promised to be able to lead the team in the best way. We are progressing step by step. Your pool is over the financial debate, but these are our pains; You can not have the best car without gasoline. Gasoline is low in our team and we use gas residues.
Regarding the fourth referee, Mansoorian stated: "I am desperately asking the federation and I do not know if it will be correct or not, but someone should define the fourth referee for us." Is he a fourth official or an observer? Instead of watching the game, he looks at Javad and me. I said something to one of the players who made a mistake, the fourth official told the wireless referee that I had said that. What does it have to do with you? Are they allowed to interfere in every game in the Europa League?
Mansoorian reminded: the fourth judges want to be seen and when they go home they say we were. Did you see us? We were fighting with the opponent's coach. I thought someone was talking on the bench! If we are to be careful, then 8 people must be fired in each game. I told my player that he was wrong and that I was nervous.
The head coach of Naft said: justify the fourth referee. 20 years ago, when did you see coaches get cards? Why are you judging us from Khorramshahr? Leave from Tabriz and Mazandaran. This referee shook the focus of our bench last year as well. Our players said that this referee disrupted the game with steel. If what I said is heavy, every game should be fired a lot. This is not the case, you see in the prestigious leagues of the world, the player suddenly gets nervous, gets aggressive, and the referee has to do psychology. The fourth referee did some of the refereeing for us.
Criticizing the fourth official again, he stated: "I think our fourth referees are not justified and want to be only in the game and in the process." I realized that this referee also harassed us last year. If the referee made a mistake, he did not take a penalty for us and took 3 points from us. I have special respect for the Heydari brothers, and if they have taken 3 points from us, these 3 points will put a lot of pressure on us in this situation of lack of money.
End of message /
Suggest this for the front page
.