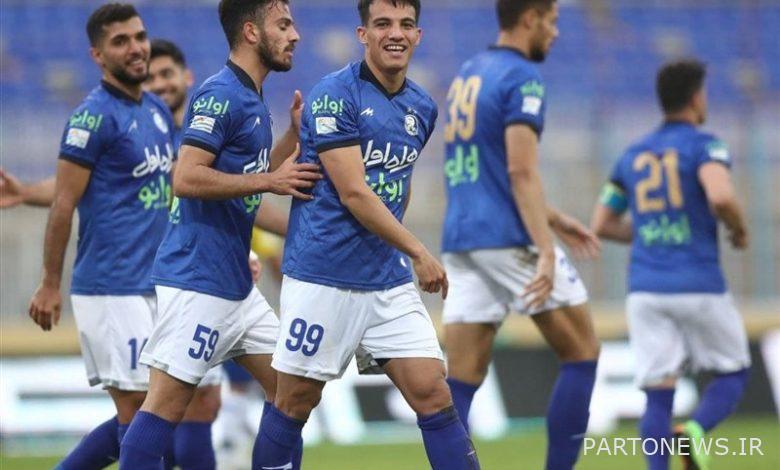 According to Tasnim news agency, the 15th week of the Premier Football League was held today (Thursday) to close the case of the first half of the tournament with Esteghlal leading the way, so that half of the 21st league cup will turn blue.
The Blues did not have a difficult task in Masjed-e-Soleiman and continued their lead with 35 points after defeating Purgol Naft. Persepolis also crossed the Fajr Sepasi barrier to strengthen its position in the second place of the table with 32 points and continue to pursue independence. Sepahan, however, stopped in Arak and now has a six-point difference with the top of the table.
The 4-point phenomenon, with a big difference compared to other lower-level residents, is leaning on the bottom of the table, and Masjed-e-Soleiman Oil, with 11 points, does not have a better position than the 15th-ranked one. Zobahan and Traktor teams also ranked 11th and 13th in the Premier League table with their unexpected performance.
According to Tasnim, the full results of the matches of the 15th week of the Premier League are as follows:
Rafsanjan Copper Zero – Peykan Zero
Isfahan Steel Zero – Sirjan Golgohar Zero
Arak Safar Aluminum – Sepahan Safar
Fan One – Abadan Oil Industry 2
Tabriz One Tractor – Mazandaran Textile One
Masjed Soleiman Safar Oil – Esteghlal 3
Khuzestan Steel 2 – Phenomenon Mashhad zero
Persepolis One – Fajr Sepasi Shiraz Safar
The table of the Premier Football League at the end of the first half is as follows:
The game schedule of the 16th week of the Premier League, which will be held after the matches of the 1/8 finals of the National Cup, is as follows:
Saturday – 2 February 1400
Rafsanjan Copper – Sepahan Isfahan, 15:00, Rafsanjan Copper Martyrs Stadium
Tehran Fan – Esteghlal, 4 pm, Enghelab Stadium, Karaj
Persepolis – Khuzestan Steel, 6 pm, Azadi Stadium, Tehran
Sunday – 3 February 1400
Arak Aluminum – Padideh Mashhad, 3 pm, Imam Khomeini Stadium, Arak
Masjed Soleiman Oil – Peykan Tehran, 3 pm, Shahid Behnam Mohammadi Stadium, Masjed Soleiman
Tabriz Tractor – Golgohar Sirjan, 15:00, Shahid Haj Ghasem Soleimani Stadium, Tabriz
Isfahan Steel – Abadan Oil Industry, 3 pm, Fooladshahr Stadium
Monday – February 25, 1400
Fajr Sepasi Shiraz – Mazandaran Textile, 3 pm, Shiraz Memorial Stadium