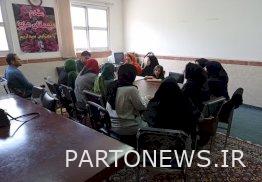 According to Aria Heritage report, citing the public relations of the General Directorate of Cultural Heritage, Tourism and Handicrafts of Central Province, Ali Mashhadi said: Since the beginning of this year, until now, specialized training in handicrafts in the fields of leather embroidery, traditional design and traditional embroidery has hosted students in three training courses.
Head of Cultural Heritage, Tourism and Handicrafts Department of Khomein city, pointing out that 50 students are being trained in these fields, added: These courses are held with the aim of developing, promoting and culturalizing handicraft fields for those interested.
Emphasizing that handicrafts trainings are held face-to-face in two groups, preliminary and advanced, Mashhadi continued: By attending this training class, the participants will fully get to know how to work in this field.
He continued: The duration of the course is two months and the participants are in groups of six to eight people in these classes.
Emphasizing that the traditional design training course was held for handicraft artists in various disciplines, Mashhadi added: The purpose of traditional design training is to teach the basics of traditional motifs so that students have sufficient knowledge and understanding of the traditional foundations of motifs and maintain tradition in handicraft products. to be
The head of Khomein city's cultural heritage, tourism and handicrafts department reminded: After the completion of the courses, the students will be given educational certificates corresponding to the courses they have completed.
end of message/