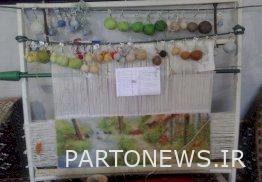 According to Aria Heritage report, citing the public relations of the General Directorate of Cultural Heritage, Tourism and Handicrafts of Zanjan Province, Mehdi Bagheri announced this news on Friday, 14th of Bahman 1401, and said: This exhibition aims to introduce the carpet industry and hand-woven carpet panels and collect various nomadic and rural carpet products of Iljaq nomadic village of the provinces. Zanjanrud section was established on the occasion of Fajr decade.
The head of Zanjan Cultural Heritage, Tourism and Handicrafts Department added: One of the keys to success in operationalizing the economy is strengthening home businesses. Home jobs that can both fill women's free time and help generate income and increase the economic power of families.
Bagheri reminded: In all upcoming exhibitions, our serious effort is to enable capable producers to introduce Zanjan carpets with a variety of textures, colors, maps and designs within the given deadline and to provide a basis for greater integration in this field.
end of message/