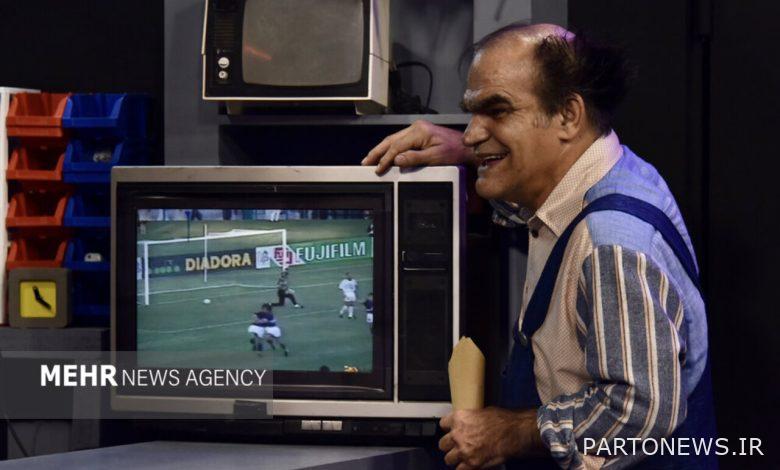 Veteran cinema and television actor Asghar Heydari explained his latest activities in a conversation with Mehr reporter: These days, I have the movie "One and a half floors" directed by Navid Esmaili in cinemas, in which he has an honorary guest role. I performed Because I was working on another project, my presence in this film was very short. Until a few days ago, I participated in the television competition "Kakheshan" directed by Majid Rostgar, in the second season of this competition. Sepand Amir Soleimani was the host of the program and I participated in the project as an actor host, which was my first experience in this field. Of course, it was not much different from my other experiences, and here we also had a script, part of which was improvised, and the rest was performed according to the text.
This actor also said about his film activities: I think I have two or three films ready that have not been released yet. I had a movie called "Adam Nami Shohod" directed by Akbar Mansour Fallah, but its name has been changed, and actors like Yousef Timuri and Arjang Amirfazli played roles in it. It's been more than a year since this movie was made, but I don't know why it hasn't been released yet. I don't have much in mind about other movies, but I know that I have some movies ready that haven't been released yet due to Corona and other issues.
From 70 to 82, I acted in serious films
Heydari said about his bolder presence in comedy works: From 1970, when I started acting, until 1982, I appeared in more serious works, the most prominent of which was "Zir Noor Mah" directed by Reza Mirkarimi. It was in 1982 that I met Mehran Moderi and I was a guest actor in "Paverchin". In "Dottachein", one of the actors left the project due to an accident, and I replaced him, and this cooperation with Mr. Moderi continued. In "Grand Prize" and "Nights lambWe worked together. Since Mehran Moderi's works were seen a lot in the 80s, after that they mostly contacted me for humorous and comedy works.
At the same time, he emphasized: I don't play comedy myself and I have often been a complement to comedy actors, but finally this story became a trend and I received offers to participate in comedy works. Personally, I liked being in this kind of work. That's how I got into comedy movies. In the meantime, most people know me because of my role in "Nights". lamb" they recognize.
I especially like the roles involved in addiction, but since our directors are not very risk-taking, once you are settled in a role and format, you will find connections for the same type of roles. There are many roles that I would like to play but I have not been offered yet This film and television actor continued: "Maybe this issue is related to my face physics, that I like playing complex roles very much." I especially like the roles involved in addiction, but since our directors are not very risk-taking, once you are settled in a role and format, you will find connections for the same type of roles. There are many roles that I would like to play but I have not been offered yet.
Heydari stressed about his presence in supporting roles and whether he is not interested in appearing as the main role in a project: There is no one who does not have such an interest. Naturally, I also like the main role, but at the same time, I have accepted my working conditions. I completed the acting course in 1971 Under the supervision I passed the master of the seas in Ferdows Bagh. He used to say that you should accept whatever was offered to you until the stage where you are no longer the chosen one, but the chooser. From my current position in my profession I am satisfied and there are many things to do. Maybe if I want to make a choice, it will be necessary to remain unemployed for years before what I like is offered to me. At the same time, I am working and waiting for a good offer. Really, under no circumstances can you stay unemployed for a long time.
He added: We are interested in this profession. Acting is more of a work of the heart and someone who has become interested in this field must have been out of interest and therefore cannot remain unemployed for a long time. An activity like participating in this "Galaxy" contest was like an experience for me, and I had never done this type of work before, and I am satisfied with the result.
This actor said about his prominent presence in television works compared to his cinematic works: Each of these fields has a series of disadvantages and a series of merits. My feeling is that working in television has more merits. One of them is the fact that the audience of TV is more than that of cinema. On the other hand, appearing in movies is considered a valid resume for any actor. In 1979, when I played "Under the Light of the Moon", after that I was invited to participate in several 90-night series, from "Paverchin" and "Shabhai lamb" to "Passengers" and "Doctors Building". After all that, every film office I went to, I was still introduced as the "Under the Moonlight" actor. That is, the people of Fan knew me by the name of my film work and this is considered as my resume.
It is the grace of people that with "nights lambThey know me
Heydari about remaining the memory of his presence in "Shabhai lambHe also emphasized in the minds of the people on the streets and streets: This is due to the grace of the people. I remember Hamid Lolai once said that since "Sar Bahadaran" which was his first series, he has worked as an actor for many years until his turn came to "Zir Aseman Shahr" but even now, people know him as "Khashayar Mostofi"! This series is also included in my career. God bless Amin history He also said that I have played so many different roles, but still people namedson "Sina" they know me. This happens to every actor whose work is specially noticed by the public and it is really enjoyable.
In another part of his speech, he said: I believe that either one should not enter this profession, or one should accept its conditions. It is not possible for a person to enter acting, but as soon as people recognize him, he wants to wear sunglasses so that no one recognizes him! Until today, no one wants to take a photo with me in the street and I thank God from the bottom of my heart for this. It's not that I like this job, but I thank God that I have found so much value that someone takes a souvenir photo with me. When someone asks to take a picture of you, his whole image of you is formed in his mind in the same minute or two that he wants to take a picture. If you face him with a frown, whenever he sees you on TV, he will say that he was a wonderful person! If you treat it with kindness, it will be remembered for years.
The actor explained about his specific facial expressions and some virtual judgments and jokes with it: I believe we are God's paintings and the main blessing is that our bodies are healthy. Facial expressions are also God-given. By the way, many people are also kind to my face, as some joke with it, some show affection. These reactions don't bother me and the truth is that I don't even think about it. The only thing I complained about was the ad misuse of my daughter's image by one of the producers of slimming drugs, which I objected to, and of course they apologized very quickly and that message was deleted. I basically don't follow the rest of the virtual things, especially the overly negative ones.
He also said about the salary status of senior actors in the projects: The fact is that in all these years, I have not asked anyone's salary in any project, nor have I talked about my own salary. It is not common for an actor to ask his co-star about his salary. Each of us reaches an agreement with the production manager Based on We also cooperate. In these years, I have not had any complaints about the salary issue.