International
Iran
Indian Foreign Minister: We seek to develop friendly relations with Iran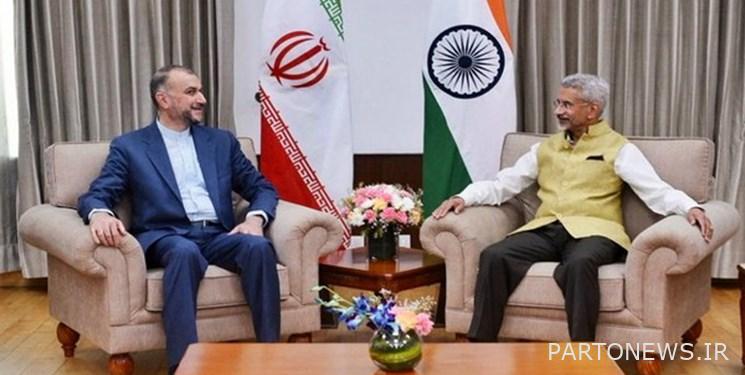 According to Fars News Agency's International Group, the Indian Foreign Minister announced in a tweet on Wednesday that he had talks with his Iranian counterpart to deepen friendly relations.
According to the news agency "Ini"I welcome the arrival of Amir Abdolhian in Delhi Nora," Indian Foreign Minister Subramaniam Jaishankar tweeted on the occasion of the arrival of Iranian Foreign Minister Hossein Amir Abdullahian in New Delhi. "Our talks today will be about developing close and friendly relations."
Early Wednesday morning, the Iranian foreign minister arrived in New Delhi and is scheduled to meet with high-ranking Indian officials aimed at developing strategic relations between the two countries.
"The purpose of this meeting is to develop relations between the two countries and to hold strategic consultative meetings on cooperation in regional affairs and international movements," the Iranian foreign minister said.
India's relations with Iran are unique and historic, and Iran is a close partner and neighbor to India, the source said.
Announcing the arrival of Indian Foreign Minister Hussein Amir Abdullahian in New Delhi, Indian Foreign Ministry Spokesman Arendam Bagchi called the visit "very effective in further strengthening relations between India and the Islamic Republic of Iran."
"Iranian Foreign Minister Dr. Hossein Amir-Abdollahian arrived in India with a warm welcome," he wrote in a message posted on his Twitter page. "This meeting will further strengthen our deep historical ties and partnership."
Amir Abdullahian was scheduled to travel to New Delhi in early February last year, but his trip was postponed due to the Indian Foreign Minister's visit to Corona. At the same time, Foreign Ministry spokesman Saeed Khatibzadeh told Fars that the trip was on the agenda and would take place .
Earlier, Hossein Amir-Abdollahian was scheduled to travel to New Delhi in September last year at the invitation of his Indian counterpart, following a visit to Tajikistan by Iranian President Ayatollah Ra'isi to attend the SCO summit. Was postponed. Of course, the foreign ministers of the two countries met on the sidelines of the Munich Security Conference on February 20.
End of message / m
Suggest this for the front page