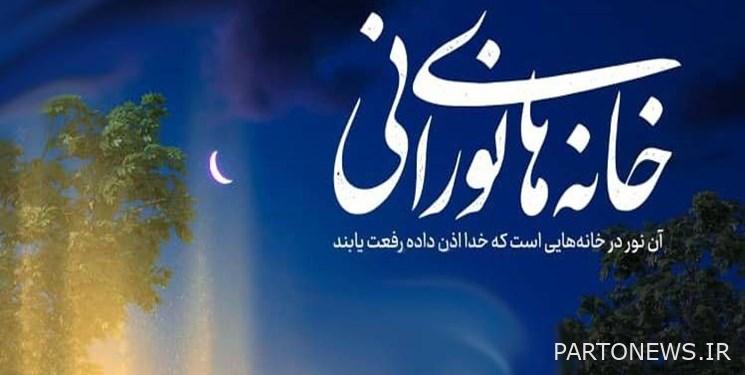 According to the reporter of Fars News Agency Radio and TV, the documentary "Noorani Houses" focusing on the introduction of the old slaves of Ahl al-Bayt and the establishment of home shrines with a long history by them, will be broadcast on Channel 2 tonight, Wednesday, September 22. The documentary series "Noorani Houses" with the aim of promoting and promoting the traditional rituals of Iran, went to the homes of old men such as "Mirza Abolqasem Attar", "Mirza Ismail Arbabi" and "Hossein Aghajani Bey" to narrate the holding of home rituals in the homes of these old men.
"Mirza Abulqasem Attar" mosque with more than 100 years of history
"Mirza Abolqasem Attar" Rouzah, directed by Abbas Mozon, is a story about the late Mirza Abolqasem Attar and his home Rouzah, which is one of the most famous and oldest home Rouzahs in Tehran. This home prayer was held in mourning for the martyrdom of Imam Hussein (a.s.) in Mirza Attar's house near the market of Tehran, and many elders including mystics, scholars of the seminary, political figures such as Nawab Safavi, well-known marketers such as Murshid Chaloui, the late Dolabi, etc. .. they were present in it. This ceremony has a history of more than 100 years and is now being held by his children and grandchildren after the death of Mirza Attar.
Abbas Mozon, the director of the "Attar" documentary, has previously said about this series: We tried to address the internal and external customs and traditions that were established in home shrines under the pretext of this old and deep-rooted ceremony and show what effect the establishment of such ceremonies has on the people. and has strengthened their social relations and functions. In recent decades, the form of ceremonies, eulogies and prayers in Imam Hossein's mourning hall have changed and it seems that a new generation has come to work. In this documentary, it is mentioned about the more authentic celebrations of Rozah.
He also said about the research of this documentary: The main research of this documentary was field research and first of all we went to those who were present in this old ceremony. Ayatollah Seidan can be mentioned among these people. In the next step, we went to the children and grandchildren of people who were present in this ceremony. Hojjat-ul-Islam Bayazar Tehrani, Sheikh Mohammad Hossein Bahraini, Haj Hossein Tehrani, Sheikh Hossein Ansarian, etc.
Referring to the narrative form of this documentary, Mozon added: This film has both archival images and interviews. During his lifetime, there was no video of the prayer in the late Attar's house, and only a few photos were used. Also, the archival images related to the mosques of the last few decades were also used in this work.
A house that has been converted into a hosseiniyeh for the mourning of Ahl al-Bayt (AS).
"Mirza Ismail Arbabi" prayer hall is a story of holding home prayers in Mirza Ismail's house; A house whose light has been kept on for about 80 years and after the death of Mirza Ismail, it has been turned into a hosseiniyeh for mourning the lovers of Ahl al-Bayt (peace be upon them). In this documentary, with Ali Agha, the son of Mr. Arbabi, Sheikh Hossein Ansarian, who spent part of his youth in Arbabi's house, Mehdi Asefi, a friend of Mirza Ismail and a regular member of the prayer meetings, Mashallah Abedi, a member of the board of trustees of Hosseinieh Arbabi, and Seyyed Mohammad Sadat Shirazi of Bani Hosseinieh. Sadat Shirazi and Mirza Ismail's shrines are always discussed. Babak Minaei is the director of this part of the documentary "Light Houses".
200-year history of Aghajani Bey Hamedan Board
"Hossein Aghajani Bey" shrine is one of the other parts of this documentary directed by Amin Lotfi. Aghajani Bey board is one of the oldest boards in Hamedan, whose history goes back to more than 200 years ago. Aghajani Bey is a neighborhood that has passed more than seventy years of performing Ta'zia and people like Haj Reza Zandi, Haj Reza Farrokhnia, Ali Ajili, Haj Sadegh Charlie and Ali Rangchian have been able to light the lamp of Ta'zi in this neighborhood during the past decades. keep.
The "Light Houses" collection is a search to find the spiritual spirit that governs the places where Ahl al-Bayt prayers were held with a long history. The emphasis of this documentary is not on the appearance and history of the buildings, but on the romantic and spiritual aspects of the places. In addition to showing the ancient prayer places, it will also introduce the old slaves who served in those prayer rooms for many years and have a conversation with the people around them.
The documentary "Lighting Houses" produced by Mohammad Amin Nowrozi, will be aired from Wednesday, September 22, for three nights at 11:00 p.m. on Do Cima channel.
end of message/
You can edit this article

Suggest this article for the first page