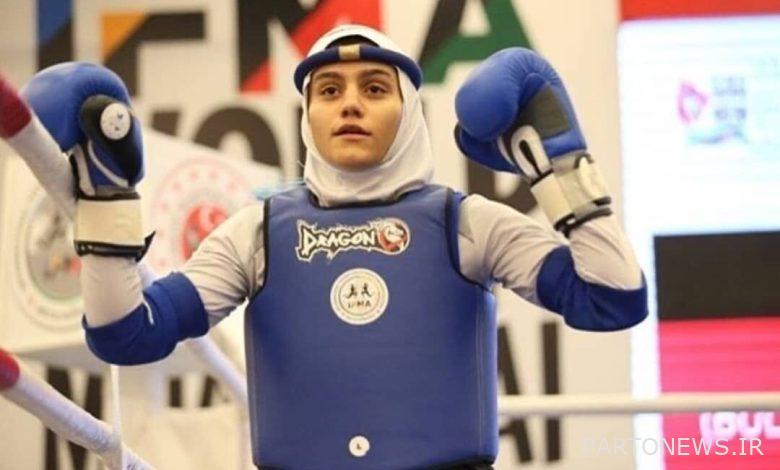 According to IRNA, today, Friday, June 4, the eighth day of the Muaythai World Championships in Abu Dhabi, UAE, was followed by the final fights in the under-23 age category, in which our team won a gold and three silver medals.
In the 60-kg weight class, Fatemeh Hosseini, who had defeated opponents from Syria and Vietnam to reach the final, crossed the barrier of Moytaykar in the host country with a decisive result of 27:30 in the final match and in a hall full of spectators to become the first golden athlete. Iran to be named in this period of competitions.
In the 75-kg final, Saba Chenari conceded defeat to an opponent from New Zealand, winning the runner-up title and the silver medal of this period of competitions.
In the men's 54-kg final game, Mehrdad Khanzadeh, despite presenting a spectacular game, finally lost 26-30 against Ahmad Nouraiman from Malaysia and settled for the silver medal.
It is worth mentioning that with the decision of IFMA and after the draw between the fighters in the weight category of -45 kg, a competition called "Special Fight" was held between Fereshteh Hassanzadeh and Damia Hasna, which was accompanied by the victory of Malaysian Muaytikar and winning a gold medal. In summing up the medals, Hassanzadeh silver has been registered for our country.
In the medal standings until the end of today, our national team, including Hassanzadeh's silver medal, has won one gold, three silver and six bronze medals so far and is in sixth place.
Tomorrow and on the last day of the competition, our team will have three finalists in the adult category, according to which Masoud Abdolmaleki in 63.5 kg against "Suravit Suk Sangwan" from Thailand, in 51- kg Yaser Parmehr with "Ali Serik" from Kazakhstan and In 75+ kg women, Samira Fathi will compete with "Golden Mercan" from Turkey.
Also, the General Assembly of IFMA International Muaythai Federation was held today at the Abu Dhabi National Exhibition Center with the presence of the President, Vice President and Secretary General of IFMA, as well as Javad Nasiri, President of the Non-Governmental Muay Thai Federation of Iran, member of the IFMA Board and Vice President of the Asian Muaythai Federation.
Minutes of the December 10, 2021 resolution, financial report, anti-doping report, acceptance of IOC resolutions on Russia and Belarus and suspension of their membership, report of the Athletics, Ethics and Disciplinary Commissions, establishment of the Mediterranean Association, IFMA formalization report to the International Olympic Committee Along with the executive calendar of 2022 and 2023, it was one of the most important issues raised in this meeting.