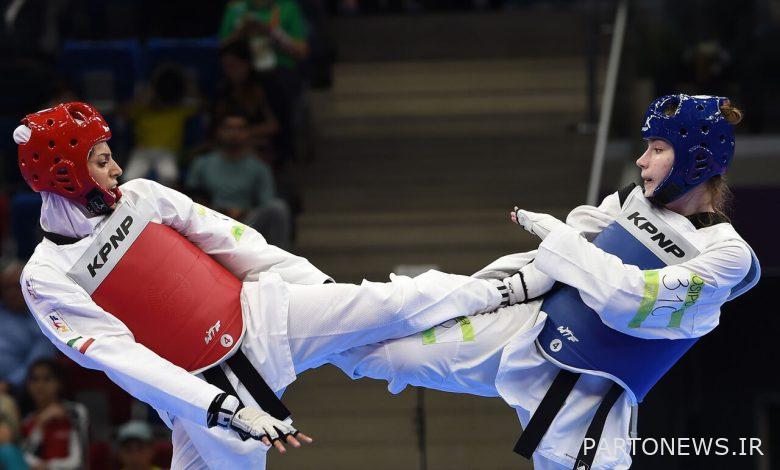 According to IRNA from the Taekwondo Federation, today (Sunday) on the third day of the Asian Taekwondo Championships, "Zahra Pourasmail" in the weight of less than 73 kg, first "Rama Al-Rab" from Jordan and "Mi Na Myung" the former Asian champion from South Korea with Similar results defeated 2-0 in the countdown and reached the final. In the final, he defeated Kazakh taekwondo fighter Kansel Deniz 2-0, 7-4, 8-3, and won the gold medal.
"Akram Khodabandeh" in the positive weight of 73 kg after defeating "Elias Elisar" from Syria, in the final match defeated "Zhao" from China in 2 rounds with the results of 12 to 1 and 9 to 4 to win the third gold medal. Take over the Iranian caravan.
Today, "Alireza Nadalian" also defeated "Al-Wadah", the representative of Qatar, and then "Amir Ali Akbari" from Afghanistan, with a similar result of 2: 0, in the quarter-finals of the 87 kg positive weight category, and advanced to the final match. He lost in the final against "Song Zhaoxiang" from China in 2 rounds and was satisfied with the silver medal.
Iran's national taekwondo team has won three gold, five silver and two bronze medals at the Asian Championships. "Nahid Kiani", "Zahra Pourasmail" and "Akram Khodabandeh" won three gold medals, "Mirhashem Hosseini", "Mehdi Haj Mosaei", "Mobina Nematzadeh", "Nastaran Valizadeh" and "Ali Nadalian" five silver medals, "Zahra Sheidaei" And "Daniel the Great" has won two bronze medals for our country.
The Asian Taekwondo Championships with the participation of 299 taekwondo fighters from 34 countries started on Friday, July 23 in South Korea and will continue until Monday, July 6.